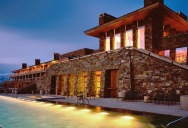 Is there any better feeling when after a day spent on the slopes, having exercised parts of you that haven't been engaged for an age (including parts of your brain), you slip into a warm bubbling whirlpool, slide into a steamy sauna or simply give your body up to the hands of a therapist who will soothe and smooth those tired and knotted muscles? For me, it's the best way to relax and refresh – quickly followed by a glass of something chilled and delicious. Indeed ski and spa go together as easily as bacon and eggs or GandT, and fortunately hotels, resorts and spa providers are prepared to indulge our needs.
Gstaad Palace, for instance has been indulging visitors for decades, not just for spectacular skiing but also for even grander apres-skiing, and the glitziest shopping imaginable. However, it does take its wellness responsibilities just as seriously with some of the most luxurious and opulent spas in the Alps. And they don't come any glitzier or grander than the Wellness section of Badrutt's Palace – a place of space and light where the design of the spa blends with the magnificent exterior. Here a plethora of body and beauty treatments await, including every type of massage and a choice of Intraceuticals Oxygen facials which introduces a rich concentration of oxygen to the skin along with a prescribed serum to hydrate and smooth. Its effect on fine lines is terrific. And do try the Engadin Hot Stone massage with stones that are found in the upper Engadin valley – full of minerals and smoothed by streams and waterfalls, they help the therapist get deeper into the knots and tangles.
The Eiger is almost a place of pilgrimage to the Japanese. How appropriate then, that at its base in the newly re-vamped spa at Interlaken's Victoria-Jungfrau Hotel, is a host of treatments and therapies based on traditional Japanese methods. The Sensai Select is the first of its kind outside of Japan and is seriously serene with spacious treatment rooms, Japanese tubs and oceans of silk – which infuses the potions and lotions used. It's a traditional Koishimari silk which claims to have anti-ageing properties. There's a choice of massages, which work on releasing blocked energy on some 70 plus pressure points of the body. And if you want to be completely super indulgent then there the signature three hour ritual – Indulgence in Silk! The hotel also houses an Espa spa which has 16 treatment rooms, a huge menu and a Spa Bar serving healthy food and drinks.
For a completely different experience head for the French Alps and the charming Les Fermes de Marie in Megeve, where eight traditional Haute Savoie farmhouses were brought down the mountainside, piece by piece and reassembled into an enchanting luxury hotel with a great spa and fantastic skiing.The Pure Altitude Spa mirrors the hotel in its design using local natural materials – rocks from the glaciers and traditional woods. It also uses mountain flowers and herbs in its own specially formulated products. They offer six different types of facials including an Icy Beauty Flash which peps up the circulation and makes your skin feel alive (it's worth noting the French do facials almost better than anyone else on the planet) a large choice of treatments – try the one for heavy legs, great after a hard day on the mountains and for total, and utter relaxation opt for a dry floatation. There is also a fully equipped gym, in case the mountains aren't enough, with a choice of yoga and stretching classes.
So many alpine retreats are in the traditional mould, but there are a couple of new kids on the block whose stunning architecture and design is almost a therapy in itself. The Tschuggen Bergoase in Arosa started life as a traditional hotel but has acquired a state of the art spa which is accessed by a stunning glass bridge. As well as twelve treatment rooms, indoor and outdoor swimming pools, a hammam, meditation room, fitness centre, a Kneipp path through ice cold and then warm water there is also an Arosa Mountain Grotto on the top floor where guests walk through a rain curtain to enjoy the benefits of all the seasons – mist, summer rain, winter storm and pure sunshine. This exercise stimulates both mind and body which is why many guests leave the spa talking about its aura of spirituality. There are also nine Light Trees on the roof which conduct natural light to all the floors which are then controlled and interact with different colours suitable for different times of the day. Of course more conventional massages, wraps, scrubs and facials are also on offer, while a medi spa area is for consultations with dermatologists and nutritionists. Outside – the skiing is quite good too. And then there is the Vigilius Mountain Resort in the South Tyrol which you can only get to by cable car. It's a great curve of wood, housing just 35 rooms, six suites and the Mountain Spa. Spare and contemporary and yet warm and inviting it uses natural materials in its building and employs a natural philosophy in its spa. This is the place where fir cones replace hot stones in massages and treatments and where you can enjoy all the hot steam and cleansing effects of a hay bath – literally hay mixed with mountain herbs. In some places this traditional Alpine treatment does have a whiff of the farmyard about it…but not here, the herbs sweeten it…but your skin will be oh-so-clean and smooth afterwards…
If you hanker after the size and grandeur of the Rockies then Fairmont Banff Springs will tick all the right boxes. Located in the majestic Banff National Park, this vast baronial edifice which has its roots in Scottish gothic castles, this glorious resort is home to the Willow Stream Spa. There cannot be a more invigorating experience then floating in the outdoor hot tub while your body is massaged by a number of warm water jets and your lungs breathing in the cleanest, coldest, oxygen laden air. There is also a host of treatments to choose from, many of which used mineral enriched mud which is great for warming limbs and muscles. Try the Elements Body Experience which brings together the natural elements of earth (mud wrap) air (aromatherapy) water (mineral bath) and fire (a warm massage) if you're looking for something different. But to help cope with any tired and overworked limbs it is difficult to beat the Apres Ski Performance Massage with its combination of massage and stretching.
Go a little further west to what is every true skier's dream – Whistler and Fairmont Chateau Whistler and its Vida Spa. This was one of the first places in western Canada to introduce ayurveda therapies. One of the best, and terrific after exercise is the Swedana. This is not for the faint-hearted, nor indeed the claustrophobic, as after your body has been massaged with ayurveda oils, you are then put into a cedar wood steam cabinet. To some this may appear a tad too coffin-like, and the heat does get a bit intense, but the after effects are worth it with hardly a pain or an ache. But don't worry there is a comprehensive menu of treatments to choose from and some 17 treatment rooms in which to enjoy them.
Nearby is the Four Seasons Resort with treatment rooms that look like mini-chalets and a myriad of body and beauty treatments to try. A hot favourite is the Sea to Sky signature treatment which uses long rolling lomi-lomi strokes to help make you feel as if you're being rolled in the ocean.
Wyoming, familiar from so many westerns is a completely different place in winter, a magical ski area where the season begins in November and stretches through until mid-April. Stay at the Amangani in Jackson Hole for its accessibility to some of the best skiing, cross-country skiing, snowmobiling and dog-sledding in over 1000 hectares of skiing. And while its Health Centre may be small – just four treatment rooms, its treatments are memorable….and even more so for taking place on some of the most comfortable massage beds on the planet which are contoured to your body. Of course Vail, Colorado is ski central on the other side of the pond and is awash with great ski lodges and their accompanying spas, however the queen of them all is the RockResorts Spa® at The Lodge at Vail. Best of all it has a yoga and pilates studio, both terrific disciplines for re-aligning bodies after much exercise – indeed a Pilates class after a day's skiing is the ideal way to stretch and heal muscles, follow with a steam and then a massage…!
---

Jo Foley, Contributing Editor
For over quarter of a century, Jo has been visiting and reviewing Spas, Sanctuaries and Wellness Centres on four continents and has written about them for publications as varied as the Financial Times, Conde Nast Traveller, Tatler, Harper's Bazaar, the Sunday Telegraph, Woman&Home, the Daily Mail, the Times and InStyle.