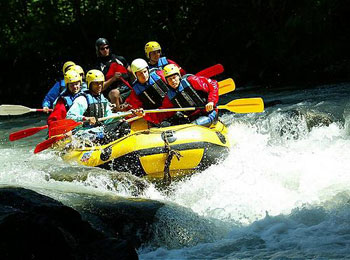 1) Tennis Bums: Fancy a love match with tennis legend Roy Emerson or one of his talented team of international tennis instructors? Well if 28 Grand Slam titles, including 12 singles titles crowns, fail to impress, this intense summer tennis programme, voted number 1 tennis camp in the world in both 2008 and 2009, certainly won't. And for those who love to watch, don't miss the Swiss Open 24 July – 1 August 2010.
2) Golf Fanatics: Put the red snow balls away and get back to the green, green grass of summer. The links in Switzerland are lush, rolling and ….geeeeeeeez, I wish that little ball would keep still. The 18-hole par 70 course at nearby Golf Course Gstaad-Saanenland is an adventure in nature-appreciation if not handicap improvement. There is also a terrific driving range (45 knock offs, partially under roof) and pitching and putting greens to perk up your game.
3) Polo Anyone?: Gstaad is home to Switzerland's annual Gold Cup Polo Tournament. Switzerland's biggest polo summer season highlight, it's held this year from 19th through 22nd of August.
4) Music Lovers: The annual Menuhin Festival 2010 takes place in August and features top international classical artists. Or if country is your passion, CountryNight is Europe's leading country music event and features famous country stars from all over the world.
5) Adrenaline Junkies: If you're looking for a thrill a minute, hop aboard the "Alpine Coaster", the world's highest bobsleigh track where you can speed along at 40km/hr, braking or not, around 10 curves, 6 waves, 3 jumps, 2 bridges and the ultimate 520-degree loop. Scary? Nahhhh….
6) Action Jacksons: Gstaad's shimmering list of summer activities includes climbing, clay pigeon shooting, mountain biking, horse trekking, and white water river rafting. The region is a genuine hiking paradise with more than 300 km of signposted and well maintained trails, easily accessible and offering something to suit every taste and ability of hiker.
7) The Walig Hut: The hotel's newest addition, charmingly restored. This is a gorgeous old hut (built in 1786) located 1700 meters above Gsteig with stunning views of Gstaad and the Sanaanland. Perfect for intimate dinners, larger events or a romantic night in the peace of the mountains.
8) The Palace Spa: – the exclusive facilities include eight treatment rooms, a private spa suite, saunas and steam baths, relaxation areas with incredible views, indoor pool and outdoor pool with jacuzzi, a state-of-the-art gym, a pilates studio and a unique hammam experience with seven rooms.
9) Palace Spa Secret Weapon: The Hammam. You could share this intimate experience with someone you love…or at least really, really like…or you could take this two-hour journey all on your own. It includes a soothing foot bath, followed quiet time in the infinity room, a cleansing soap foam body massage, a steam bath and a dip in the floating pool. After a break in the private relaxation room, a hydrating oil massage completes the treatment. Ahhhh bliss….
10) Helicopter breakfast on the Glacier: The perfect way to work up an appetite. Gstaad Palace's Concierge team is keen to fulfill their guests' every wish and is at your disposal 24 hours. Don't let this exhilarating excursion fly by you.
Special 2010 Family Summer package includes:
• A 4-night stay in a double superior room with stunning views over the Swiss Alps and an additional Double Classic Room for up to two children until the age of 16 years (50% off regular rate)
• Welcome fruit basket and bottle of water
• Daily Swiss breakfast buffet and half board at "Le Restaurant"
• Four 'easyaccess'-cards including:Use of cable cars, local bus and train transportation and entry to several tourist activities and museums in and around Gstaad during 3 days
• Use of the Palace Spa with indoor pool and Olympic size summer outdoor pool
Package rate per day from CHF 1'284.- ( 2 adults & 2 children up to 16 years)
Click here to go straight to online reservations.