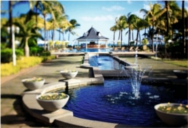 Written by Annabelle Hood
When two smiling spa therapists accompany your airport transfer with a soothing hand massage, refreshing damp towel and a long cool drink, waves of relaxation kick in way before you've even checked in. Surely this is how every spa break should kick-off?
Arriving at the resort, I walked to my room through Le Telfair's bright bougainvillea-filled gardens, past clusters of handsome white plantation-style villas. Each one housed spacious old Colonial rooms; many with ensuite shutters offering honeymoon-blue seashore and pool views from the comfort of one's bath.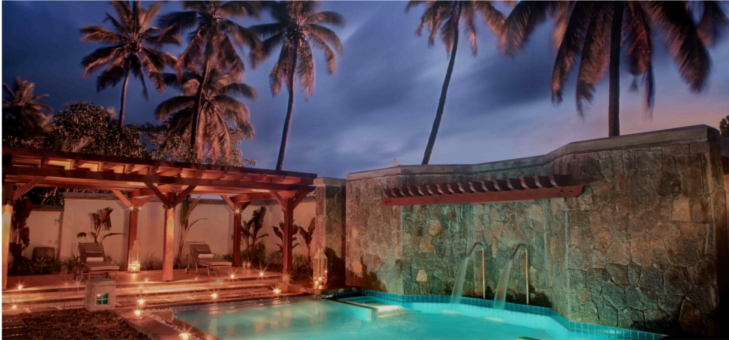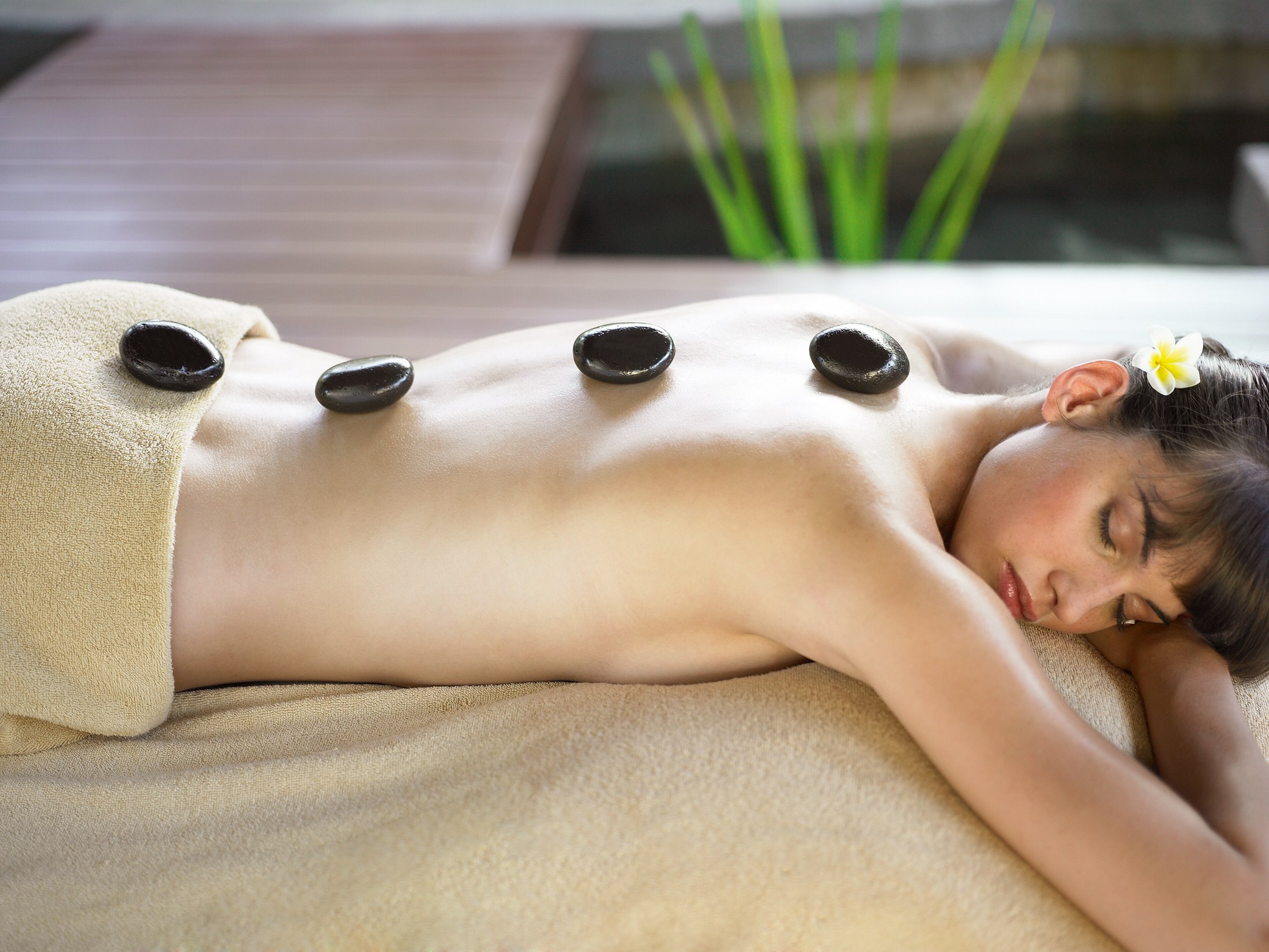 Later, as jetlag wooed me towards the revamped Seven Colours Millésime Spa (formerly Six Senses, so you can imagine the supreme standards), Mynah birds chirped in the trees and the sound of trickling water beckoned me through an archway to the Spa's open villa reception. A tour of the spa's relandscaped garden revealed nine treatment rooms of single and double size, and three competing VIP rooms: The Honeymoon Suite, and at the bottom of the garden, two private outdoor gazebos. From these havens of delight, loved-up honeymooners emerged woozily fragrant and dishevelled, before flopping down on one of six white muslin-curtained beds that surround the bubbling Vitality pool.
My spa ritual began when I was invited by the softly spoken spa receptionist to choose a colour (from a spectrum) that I was most drawn to. I chose green, which I was told relates to the Heart chakra, the colour of space and sociability, which can indicate a tendency to do too much for others. No chance of that I thought with glee, as I followed my spa therapist for a deeply self-indulgent 60-minute Stress Relief Massage. The chakra-balancing benefits of my treatment were enhanced with 'green chakra' music, a green colour therapy light, and a spritz of herbal 'green' room spray.
Continuing with the 'green' theme (after all, the Domaine de Bel Ombre region is so lush), I asked my therapist Sanju to open the sliding door so I could hear the birdsong and coconut palms swaying in the breeze. Within moments, though, I wondered whether I should have upgraded to a distant gazebo, because with treatment room 4 now open to the elements, my otherwise perfect massage was being overshadowed by the boom of a guest's voice over the wall. We compromised by partially closing the door and I soon drifted off in therapist Sanju's skilful hands, learning that his Indian grandfather had taught him the authentic art of mindblowing Indian head champissage. He adapted the massage to suit me, which in my book is the beginning of a great massage, and at the heart of the Millésime experience.
After my treatment, which whizzed by all too soon, I sipped an exquisitely comforting sweet rosemary, honey, lemon and ginger tea before dozing off by the gushing jets of the Vitality pool. Awaking just in time to catch the embers of sunset on the beach as the last lovers of the evening sauntered down hand in hand, it felt fitting that I should balance my heart chakra in such honeymoon paradise.
---
On the spa menu:
Wedding packages, Millesime Signature Treatments, massages (including detox, golfers and mothers-to-be), scrubs and wraps, facials, salon hair and beauty, and 15-minute 'Add-on Mini Treat' treatments.
Signature treatment:
'Signature Skin Renew Facial', 4,000MRs (£90) for 90mins, 'The Couple Spa Suite Experience', 9,000MRs (£200) for 120mins, and the Musical Signature Massage, 2,800MRs (£60) for 50mins.
Total spa and resort area:
2,000m2 Spa at Le Telfair, including a tranquil courtyard that houses six muslin-partitioned relaxation beds, a new Vitality pool with two shoulder jets, an underwater massage jet and two bubbling chrome spa beds.
Spa products:
Seven Colours spa products and cosmetics developed by spa manager Hélène Cassan. The range comprises exquisite essential oils, body gels, wraps, scrubs and herbal room fragrances.
Don't miss:
Complementary daily yoga and Tai Chi with specialist instructors, either in the hotel's beautiful grounds, on the beach or at the spa. Nature lovers can now enjoy guided Wellbeing Walks through 1,300-hectares of the astonishingly scenic neighbouring Frederica Nature Reserve.
Spa Treatment Room types:
A VIP/Honeymoon suite (complete with a private Jacuzzi a deux), two outdoor gazebo rooms, plus three single and three twin-bed treatment rooms.
Diet:
Le Telfair's Gin'Ja restaurant is a Pan-Asian beachside idyll serving fresh sushi, artfully arranged on elegant laquered planks. Fresh fish, tropical fruit and vegetables aplenty with the 'Seven Colours Energy Cuisine' menu, served next door at the Heritage Awali Gold & spa, designed to awaken dulled senses and rebalance the charkas in line with your Seven Colours spa experience.
Getting there:
Mauritius is a 12-hour flight from the UK. Transfer time to Le Telfair is a 45-minute drive from its international airport.
USP:
The Seven Colours Millesime Spa is the deluxe version of the Seven Colours spa brand already offered at Heritage Awali's existing African-inspired spa next door.
Hot Tip:
Heritage Hotels also own the tropical-feel Heritage Awali hotel next door, boasting its own Seven Colours Spa, where treatments take place in African Dhobi huts around a rectangular whirlpool. Access to both spas is complementary for those staying at any of Heritage Resort, including its golf-side private Villas Valriche which come complete with private infinity plunge pools and butler.
Website:
Heritage Le Telfair
Tel. 00 230 601 55 00 ;
Heritage Awali
Tel. 00 230 601 1500
---
Annabelle Hood
Award-winning luxury travel, health and spa journalist and editor, Annabelle has written for Vogue, TTG Luxury, Spa Heath & Beauty, Spa Secrets magazine, Brides, The Evening Standard and Handbag.com amongst others. She specialises in city break destinations, luxury hotel, spa and restaurant reviews, and health and beauty features.