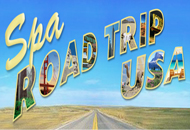 Written by Debbie Robinson
If you're a devoted yogi with a daytime job or a quasi-spiritual seeker like me, you've regularly toyed with the idea of visiting an ashram to escape today's click-and-swipe culture and explore your mystical boundaries. But you've hesitated for any number of reasons– the flight to India is too long, you may not like it there, you may never come back. For me, the urge to sample the aesthetic life followed a few days of super-sized casino martinis and boardwalk fast food that turned my muffin top into a mushroom cloud in Atlantic City.
Fortunately, I spied a weekend retreat at the Satchidananda Ashram in Buckingham, Virginia called Joy of Health Through Yoga, a four day, three night getaway that promised to detoxify and rejuvenate the body, mind and spirit, while giving you the tools and motivation to make health a daily priority. The retreat was led by holistic health physician, Amrita Sandra McLanahan, M.D., an associate of bestselling author, Dr. Dean Ornish, at the Preventative Medicine Research Institute for twenty years. Together, they documented the benefits of dietary change and stress management techniques, including yoga and meditation, to treat and prevent cardiovascular disease and cancer. Ornish credits ashram founder and guru, Sri Swami Satchidananda with helping him develop his holistic perspective on preventative health. Satchidananda himself is perhaps best remembered for having opened the Woodstock Festival way back when, but his system of Integral Yoga, headquartered here in "Yogaville", now has an international following that grows exponentially each year.
The journey to the Satchidananda Ashram curls through the majestic Blue Ridge Mountains. The community itself sits in a serene 700-acre woodland sanctuary on the banks of the James River. There isn't a smidgen of strip malls or chain restaurants as far as the crow flies. Mobile phone coverage is non-existent except for a weak AT&T signal. For visitors who cannot wean themselves completely from the "real world", free Internet access is available via the ashram's all natural convenience shop, but for the most part, you are there to meditate, practice yoga, eat mindfully, enjoy the exquisite natural preserve, and learn.
On arrival we received an orientation packet that included a map of the Ashram, advice on ashram etiquette, information on the Yogaville kitchen and the benefits of a vegetarian and vegan diet, a handy guide to a basic Integral Yoga class and poses, and a personal schedule for the weekend, outlining retreat sessions, meditation and yoga classes designed for your group, meal times and other communal sessions you are encouraged to attend including Saturday night Satsang. For a little extra money, I stayed in a private room that had all the essentials of a respectable hotel room suite minus the television or telephone, and I appreciated the privacy after the long and thought-provoking days. Like most ashrams, the rigorous daily schedule requires you to rise when the birds are still sleeping. Satchidananda however recognizes that retreat guests may have different rhythms than long-term community residents; so there is no derision should you miss an early morning meditation or seminar instruction for something else that speaks to your soul while you are there.
Our retreat officially commenced on Friday evening with an introduction and overview of the weekend's sessions with Dr. McLanahan and her former personal assistant, Sumati Steinberg, a registered nurse and wellness coach. Nearing 70 years old, Dr. McLanahan looks more mid-50s and is walking testimony to the effects of healthy living through yoga. She exudes superhuman vitality and her laugh is downright infectious. But it is her passionate commitment to the preemptive benefits of a vegan lifestyle coupled with meditation and yoga that stand out. The next few days began with 6am meditations followed by gentle yoga sessions. Dr McLanahan and Sumati then shared a wealth of information with our varied group of health-seekers (including two doctors), covering everything from how to take care of your TRV (Temporary Recreational Vehicle here on earth) body, mind and spirit, effortless weight loss and habits for life, yoga and diet basics backed with scientific evidence to support its effects both on individuals and the planet, lists of healthy snacks and recipes, home remedies for colds and flu, to an extensive book list for further research and post-retreat support.
The sheer amount of information we received was overwhelming and I refer to it now regularly to remind myself of all that I inherited while there. The core advice seems so obvious, so sensible and yet we ignore these daily: Move Your Body, Drink Water, Have Fun, Laugh, Do Service, Think Positively, Eat a Balanced Diet, Meditate. Having the chance to live that life uninterrupted over four days was a wonderful way to kick off a new regime. The yummy vegetarian meals from the Yogaville kitchen made it easy to try something you might never have considered eating before, a walk through the woods was as powerful as a midday meditation, and the iconic Light of Truth Universal Shrine (LOTUS), dedicated to world peace and acceptance of all religions, really brings home the message that all life needs to be nourished with the respect and devotion it deserves.
It helped to have a car as the retreat sessions were held about a mile down the road from where my accommodation was situated on the ashram. And if you want to blend in, leave the Lululemon at home and bring loose fitting clothes instead. Ashrams are not for everyone. There is a communal vibe that can be challenging for people who like to hold on to their egos. But that's okay too! Satchidananda believed that "truth is one, paths are many" and it is in that vein that all of our retreat participants found their own nuggets of wisdom and took home with them potentially life-changing tools for a healthier and happier existence.
---
---
Don't miss:
The Lord Siva Nataraja Shrine. Inside is a seven-foot tall bronze Moorti, or sacred statue, of the Lord Siva Nataraja, "Lord of the Cosmic Dance". He "dances" with a flaming halo symbolizing the Pranava OM or universal intelligence/energy every six hours for approximately ten minutes, at 12 noon, 6 p.m., 12 midnight, and 6 a.m. The Sanctum is open during pujas (Hindu ritual worship), usually at 11:45 a.m.
Upcoming Centennial Celebration:
The 100th Birth Anniversary of H.H. Sri Swami Satchidananda will be celebrated at Yogaville the weekend of 11-14 July, 2014. Centennial Celebration Packages are available for 3 nights, July 11 – 14: Dormitory: $485; Private Room/Shared Bath: $605: Private Room/Private Bath: $655; Tent: $385
Rooms:
Dormitories, private rooms and camping. Simple, but comfortable.
Dining:
Three cafeteria-style vegetarian/vegan meals per day are included. No alcohol.
Yoga/Classes:
Developed by Swami Satchidananda to embrace and integrate the various branches of yoga ( Hatha, Karma, Raja, Japa, Bhakti and Jnana), Integral Yoga classes are available twice daily at no extra charge. A full list of programs, workshops and retreat is available here or you can download the Satchidananda 2013 Program Guide.
Best view:
Breathtaking panorama overlooking the James River from the Lotus Conference Center.
Getting there:
Closest City: CHARLOTTESVILLE, VIRGINIA ~40 miles north of Yogaville.
Public transportation from US destinations into Charlottesville is available via Amtrak, Greyhound Bus, or the following airlines: US Air, United Express (United Airlines), American Eagle (American Airline) and Comair (Delta) flying into Charlottesville Airport. There is no public transportation from Charlottesville to Yogaville. You can rent your own car or contact the Ashram Reservation Center to arrange transportation to the Ashram. Only pickup/dropoff service for Charlottesville is provided.
Flying into Dulles: No pick-up or drop-off service is available for Dulles International Airport. However, rental cars are available with a three-hour drive time to Yogaville.
USP:
Back to nature peace and tranquility and a chance to expand your spiritual horizons.
Website:
Satchidananda Ashram–Yogaville
Contact Details:
Satchidananda Ashram–Yogaville
108 Yogaville Way | Buckingham, VA 23921 | USA |
Tel: +1(434) 969-3121 ext. 108
---
Debbie Robinson
began her writing career in the great publishing houses in Manhattan before trading the NYC skyline for Oxford's gleaming Spires. She worked as a travel and promotional writer for Berlitz and was Communications Director for WHSmith Online before embarking on her own web marketing and PR consultancy in Oxford. Her spa career began after the birth of her third child, when the family decided she needed a day off. She assumes they grew up nicely…