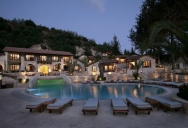 Cyprus, which legend has it, is the birthplace of Aphrodite, truly is a land fit for the gods. A year-round island, lying at the crossroads of three continents, it is steeped in history, and boasts some of the finest beaches in the Mediterranean. The centre of the island is dominated by the forest covered Troodos mountains, and the north by the Kyrenia. Hidden amongst this breathtaking scenery, find championship golf courses and luxurious hotels from which to enjoy all that Cyprus has to offer.
Accommodation and other facilities

Ayii Anargyri Spa Resort: set in a valley of mature trees, this boutique hotel resort offers a unique retreat, and the opportunity to enjoy the health-giving waters which have benefited visitors for many years. Cuisine from locally grown produce, offers the best of traditional Cypriot fare – garden-fresh, nutritious and flavoursome.
The resort has a long history – in the 1920s, when guests were accommodated in just 18 rooms, treatments involved filling baths by hand with water heated in a container in the garden. Today the facilities and service are of a level found only in the most exclusive boutique hotels.
Accommodation on offer includes
standard rooms
original Monks' rooms (offering high ceilings and a sense of history)
garden bungalows (with a constant supply of spa water)
spa bungalows (constant supply of spa water and outdoor Jacuzzi)
suites (each with a mineral Jacuzzi)
garden suites (in the old wing, opposite the ancient chapel, resting amongst the eucalyptus trees, featuring mineral Jacuzzis)
prestige suites (in the tranquillity of the old wing, with a private balcony overlooking the river, private spa
Spa details
This dedicated spa is the product of many years of intense planning and research, making use of the natural resources the land has to offer. The Natural Spring Lounge uses mineral-rich water channelled from the nearby hillside, where it is combined in numerous treatments. Beneficial for joint and muscle discomfort and some circulatory conditions, it has been used as part of gentle, non-invasive therapies for generations by the local population. The Beauty and Serenity Lounge is dedicated to relaxation and beauty therapy, with an extensive menu of treatments to choose from.
There is a cardio-fitness area and a Total Experience Suite, consisting of herbal steam, rustic sauna, temperature-controlled Rasoul baths and the latest Chromatherapy.
Local Information
Paphos airport – 45 minutes.
The beach resort of Polis and Latchi – 20 minutes.
Coral Bay – 30 minutes
Tsada Golf Club – 15 minutes
Kritou Terra Environmental Centre – 20 minutes
Kathikas wine growing region – 10 minutes.
The hotel is also well situated for excursions to the Troodos Mountains and the renowned Akamas Wilderness
Contact details
Miliou, Paphos,Cyprus
info@aasparesort.com
Tel: 26184000
Fax: 26632526
www.aasparesort.com