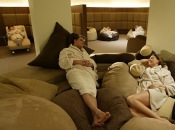 By Debbie Robinson
Alexander Pope once quoted the 9th beatitude as, "Blessed is the man who expects nothing, for he shall never be disappointed." We would have been wise to remember that when we hopped a train to the Titanic Spa for a long-awaited weekend escape. A beautifully restored textile mill silhouetted against the moss-green hills of the Pennines, the Titanic is the UK's first eco-spa and a pioneer in environmentally friendly stategies that soothe the mind, body and conscience. Not only does it draw its pure Yorkshire water from a bore hole 100 m down, it houses a state-of-the-art laundry facility that runs on cold water and a heat and electricity power unit that generates energy using chips from sustainable trees. If that's not enough to admire, the Titanic Spa has transformed its dilapidated origins into a sweeping combination of comfortable chic set against bare Victorian bricks and warm walnut woodworking.
…If only my guest, K, was so easily impressed.
After a three hour train journey, a 15 minute taxi ride, and news of an unexpected grandchild on the way, K not only arrived tense, she was desperate for a spa-induced coma, a non-alcoholic retreat into unconsciousness. Instead, we hit a brick wall of real life — a large brown-veloured bathrobe brigade packed with cackling hen-partiers. K looked like she was going to spit nails…after she bit them off each woman, one by one.
I steered her to the dressing rooms, fast.
There we were greeted by a friendly spa therapist, given a brief tour of the Spa's eponymous Heat Experience, therapy rooms and snug-looking Relaxation Room, and handed our schedules for the day. We were on our own until lunch time. In spirit only. Saturdays are clearly the Spa's busiest day and regardless of the tempting sensory experiences — the crystal steam bath, Finnish sauna cabin, plunge pool and ice room — it's not actually easy to relax with so many people milling around.
K was practically sullen. I could see her sparometer dipping dangerously below acceptable. I suggested a swim, thinking that a little warm water exercise in the salt-regulated pool might do us a world of good. It did me. One of the lovely things about pool etiquette is that if someone is swimming in a lane, even if it's only an imaginary line going straight up and down the pool, then other pool users leave them to their paces unmolested. A half hour later, I had stretched my muscles and opened my pheromone-ally rejuvenated heart. K was reading Take a Break.
I'd like to tell you that it got better for her, but …despite a perfectly tasty lunch and delicately prepared dinner, K's actual spa treatment, the detoxifying Aroma Cocoon Body Wrap, was less cocoon, more marooned. While the wrap itself was nicely applied, K found herself shivering to the bone and had to ask her therapist for blankets which didn't arrive until the session was almost over, and by K's clock, five minutes too soon.
I on the other hand had requested a Decleor Fruit Velvet Herbal Sensation because it promised deep relaxation and I wanted to try out the Hammam, a marvellous heated plinth where I was plied with the yummiest of smells and exfoliated for England. My therapist was so skilled at combining massage with acupressure that I barely noticed when she apologised for the noise outside the room. Then I was led into a cosy therapy room, where once showered, I was treated to the most truly, madly deeply relaxing and mesmerising massage of my life. I can still feel it. I can still smell it. (Decleor Neroli Oil — bliss!).
I literally floated down the hallway to the Relaxation Room where K was wrapped up in newspapers and disappointment. I had a moment of almost unendurable guilt. I felt amazing and was looking forward to the rest of the evening when it was bound to get quieter and I could revel in the lovingly thought-out facilities and indulge myself with uninterrupted sleep in our two-story deluxe Spa apartment, stocked with my favourite muesli, fresh croissants, orange juice and milk for the next morning's early wake up call. And there was K — looking crestfallen. Was it attitude? Expectation? Or just dumb luck?
Whatever the reason, I reached out, gave her a hug and left her in peace. At least there in the Relaxation Room, surrounded by large signs that read QUIET PLEASE, K finally found a few moments of much needed respite in front of the flat-screened fireplace that snapped and crackled hypnotically, just like a real one.
I woke up an hour later, not even realising I'd fallen asleep. It was the deepest, most wonderful sleep I could remember for the past 20 hair-raising, family-raising years. So you won't be hearing me raising any objections to this eco-superb urban retreat – I'll leave that to K. Me? I'll just be P-Raising the Titanic for bestowing upon me the single finest treatment I have experienced in the past several years of spa'ing. And I'll be visiting again, just not on the weekend.