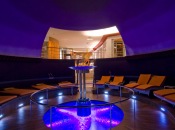 Written by Annabelle Hood
Something strange happened when I set foot in the Post Hotel's seductively cosy foyer at tea time. I found myself chatting to the hotel receptionist as if she was an old friend, sipping a glass of Prosecco (I never drink before dinner), and sitting by a crackling logfire without once checking my phone. Long before even stepping in to any of the spa areas, the relaxed magic of the place had seduced me. By the time I'd reached my room up the quaint street-lit cobbled passageways of the hotel, I'd resolved that I was coming back here again. Soon. With my partner. For longer.
Later I tried to pinpoint in a short text the hotel's singular charm, but it proved impossible to isolate it to just one element: Was it the photogenic beauty of the Atrium spa and its airy girlie elegance, or the hypnotizing number of treatment choices listed in the expansive brochure? Was it the family-run personal touch that permeated the hotel? Or the liberating freedom of so many daily wellbeing activities inclusively offered? (activities ranged from meditating at dawn with the hotel's resident Shaolin Chinese monk, to Nordic Walking trips, and beginners' riding at the hotel's Lippizaner stables next door). Maybe it was the uber-fresh buffet stations at mealtimes? The chirpy staff who remembered guest names? Or simply the hotel's picture-perfect alpine setting? It was all of these and more. So much for a "short" text.
Before dinner I swam outside in the steaming indoor/outdoor pool, inhaling the crisp air as I took in the distant mountain views then took a dip in both outdoor thalassotherapy hydropools, whose bath-temperature waters whirred and sploshed as they massaged.
Next day I ventured down to the mystical new Sunken Temple – a labyrinth of themed sauna rooms entered by a manmade grotto deep underground. The Austrians have no qualms about stripping off I soon realised – nudity is mandatory in this particular sauna area, but as all signs were written in German, I found out the surprising way. But it was worth braving it to witness the Chinese dry sauna with serpent heads Lapsang-scented steam on to the rocks, and a vast spherical chromatography solarium equipped with private relaxation music booths. No wonder spa aficianados flock worldwide to this Tirolean secret gem.
The Atrium Spa beauty treatment area upstairs was stunningly sunny, expansive and peaceful, set around a small courtyard pond of statues. Product brands and treatments here included German and Swiss cosmoceuticals to muscle-relaxing Tirolean rock oil, plus unguents from further afield like those of the chic St.Barths range, poured in to characterful old rum bottles.
Characterful. Now if there's one word that describes the Post Hotel it's probably that. And yet even that does it no justice, because the place is luxurious too. Cosy eccentricity? No, even that won't do, because it's all just so stylish. Experiencing its charms in person really is the only way to appreciate all that The PostHotel has to offer. Which is why I've booked my return already.
---
On the spa menu:
A vast list of unusual facial and body treatments, from alpine herb baths to Lomi Lomi, Ayurveda and alternative therapies.
Signature treatment:
Trigger point full body massage with therapist Richard (from £45 [€51] for 40mins)
Total spa and resort area:
6,500m2
Room types:
Karwendel de Luxe (cream décor), Landhaus (Swiss chalet); Junior Suites (Italian splendour); Schlossl Suites (rustic charm)
No. of rooms:
150
Getting there:
50min taxi transfer from Innsbruck airport. BA, Fly Thomas Cook and Easy Jet fly direct from Gatwick.
USP:
I just can't stick to one: Incredible staff, Atrium Spa treatments, fresh plentiful food, Lipazzaner riding school, and the unusual underground Sunken Temple sauna retreat.
Website:
---
Annabelle Hood
Award-winning luxury travel, health and spa Journalist and Editor, Annabelle has written for Vogue, TTG Luxury, Spa Heath & Beauty, Spa Secrets magazine, Brides, The Evening Standard and Handbag.com amongst others. She specialises in city break destinations, luxury hotel, spa and restaurant reviews, and health and beauty features.