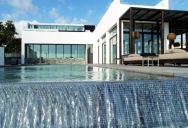 Written by Annabelle Hood
Thanks to the AlmyraSpa's new Hypnos Week Ritual, exhausted parents can now enjoy quality rest while the kids are entertained.
Great news for sleep-deprived zombies who, like me, have seriously contemplated catching 40 winks beneath their desk: AlmyraSpa at the Almyra hotel in Cyprus has devised a much-needed week-long programme for sleep-starved parents. It makes sense, because the design-led hotel has a fantastic crèche, but I am living proof that anyone can benefit, with or without kids. The programme isn't cheap at €1,100 a pop for the week, but it really works. Most evenings I was barely able to keep my eyelids open beyond 9.30pm. Not bad for someone who normally hits the hay well past midnight.
Despite the fact I spent alot of the week with my eyes closed, it was always a pleasure when I opened them to see Almyra's trendy greige divans, infinity pool, sunken clay tables on the whitewashed terrace, and billowing white muslin partitions (think Nikki Beach style minus the pretension). This is one hip hotel busting at the seams with both style and substance.
So what were the "magic bullets" of my soporific sojourn? A five-star hotel that offers bespoke service as standard, and being upgraded to one of 19 stunning, spacious Kyma signature suites near the sea's soft lapping waves, certainly helped. But what really did the trick was the prescribed line-up of daily Spa treats, including an hour-long yoga lesson, a steam sauna, an hour-long daily *spa treatment and a long soak in a fragrant Almyra Signature Bath. The massage and bath were administered in the spa's beautiful upper Spa Suite, from which I'd watch an amber sun sink swiftly in to the ocean each evening at dusk.
Evenings I'd tuck in to a creatively presented three-course Hypnos dinner devised by the hotel's Executive Chef and a nutritionist. The generous portions put paid to the theory that you can't sleep on a full stomach! Sleepy ingredients all featured, from lettuce to yogurty dressings, milky oatmeal and quality proteins. I certainly looked forward to this hearty meal having swum umpteen laps in the spa's indoor saltwater pool (had the weather been dismal, I could have worked out in its vast hi-tech gym with seaviews, but as it was sunny, I preferred walks along the waterfront).
Just thinking about my calming stay at the Almyra makes my eyelids droop. And so to bed… to dream of returning.
---
Did You Know?
The Almyra hotel was the first hotel to be built in Paphos. Its contemporary design has since been revamped by Joelle Pleot, designer of Karl Lagerfeld's own house, and it recently won five-star status. Half-board guests can also dine at neighbouring sister hotel Annabelle, or use its Hercules Teen Club.
On the Hypnos Week Ritual spa menu:
*Daily spa treatments from the choice of a Hot Stone massage (1hr), Aromatherapy massage with sleep-aiding essential oils (1hr), Reflexology (1hr), Reiki (1hr) and Oriental head massage (30mins). In addition, a daily bath from a choice of: Algae detox, Rose blossom milk, Coco orange fruit, and Eucalyptus sage herb, baths. Chamomile tea, earplugs and a blindfold are also provided as part of the Hypnos Week Ritual.
Spa Facts:
AlmyraSpa is a large three-storey, stand-alone white building with indoor and outdoor freshwater pools, seven treatment rooms, two Spa Suites, two Vichy treatment rooms, steam room, dry sauna and ice fountain, a yoga spa deck, relaxation room, state-of-the-art gym, and Eauzone spa restaurant. The spa is for adults over 16 only.
Spa products:
AlmyraSpa offers the brands Osea and the organic company Just Pure, whose effective best-sellers include Just Pure Face Balm Aloe Vera Frangipani, Sallow thorn cypress hair pack, and a superb range of milk baths and oils. There is also a Toni & Guy hair salon in the AlmyraSpa and an OPI nailcare room.
Need to Know:
The beaches in Paphos are mainly rocky bays, not sand. Both outdoor spa/hotel pools are not heated during off-peak months. Various facilities such as pool bars, terraces and restaurants may also be closed, but it's well worth forfeiting these extras to avoid the crowds.
Rooms:
There are 189 guest rooms, 19 of which are contemporary double Kyma signature suites offering a private decked terrace with daybeds, and views of the sea and Paphos Castle on Paphos Harbour.
Getting there:
The Almyra is a five minute walk from Paphos' harbour. Taxi transfers are pricy, costing in excess of €20 for a 20-minute single transfer. However, the Paphos bus costs only €1 and departs hourly to/from Paphos airport straight to the Almyra. Easyjet flies direct from Gatwick and Luton.
USP:
Unusual spa treatments and herbal teas that vary according to the moon's cycles: i.e. if it's a Full Moon, if the moon is waxing (treatments then focus on absorbtion and hydration), or the moon is waning (time for body and mind to detoxify).
Website:
Almyra, a Thanos Hotel
Tel. 00 357 26 88 87 00
Annabelle Hood flew direct from Gatwick to Paphos with Easyjet.
---
Annabelle Hood
Award-winning luxury travel, health and spa Journalist and Editor, Annabelle has written for Vogue, TTG Luxury, Spa Heath & Beauty, Spa Secrets magazine, Brides, The Evening Standard and Handbag.com amongst others. She specialises in city break destinations, luxury hotel, spa and restaurant reviews, and health and beauty features.