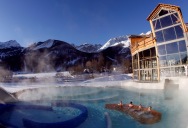 Written by Sappho Barkla
On a recent ski holiday to Serre Chevalier, the charming ski resort in the Southern French Alps, I was fortunate enough to be able to relax and unwind in the new Grands Bains de Monetiers. Just opened last year, it spreads over a huge 4500 sqm! Forget squeezing into the hotel Jacuzzi after a day on the slopes and kiss the rest of the clambering guests good-bye as they hunt for a spot of 'relaxation', fumbling in and out of tight spaces and unceremoniously dipping in and out with a bit of small talk in between. Don't get me wrong, am all for sharing tales of my day on the mountain with my fellow residents but being near-naked brushing up against a total strangers doesn't put me at my most relaxed – which defeats the whole purpose of the Jacuzzi in the first place! And don't even get me started on the sauna…
That's why I think every ski resort should have a Grands Bains like in Serre Chevalier. Think Roman Baths with fountains and cascades, where the water is kept at a constant 44 degrees c – bath water warm! The main pool is a large semi circle overlooking the slopes with 20m high windows and roman columns surrounding the massage pools. We braved the outside and sat in the (cooler) water as the sun went down and the last skiers returned from their days – utter bliss! Now was the time to do the "Scandinavian treatment" and head for a roll in the snow before jumping back it… my pores were utterly grateful!
Returning back inside, the main inside pool was surrounded several separate stone rooms each with their own temperature pool (the fridgidarium, the tepidarium, and the caldarium – will let you work those ones out!) as well as several themed baths – the light show pool, the mist room, and (my favourite) the music pool! Gently lie back in the temple and put your ears just under the water and listen to the relaxing music coming through the waters… gives a whole new meaning to the term 'sound wave'!
The spa welcomes everyone from the age of four but the top floor is reserved only for adults with a separate pool and three different saunas each with their own temperature (hot, hotter, hottest!). I could have spent all day there but I had only booked myself a 2 hour time slot (bargain price of 15 euros). The spa also has separate treatment rooms for massages and facials etc so overall, a great value spa experience! Highly recommended.
Ski Holidays to Serre Chevalier are available through Erna Low Ski Holidays. www.ernalow.co.uk
All images courtesy of the Serre Chevalier Tourist Office.