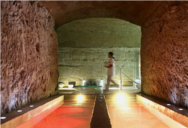 Written by Jo Foley
Every aspect of our lives, it seems, is affected by changing fashions and trends – from food to frocks, nail polishes, cars and yes, even spas. With the latter it is not so much us wanting a total change such as mini to maxi, but the more we visit spas and the more we get to know what they can offer, the more discerning, demanding and knowledgeable we become.
Over the last decade or so, we searched for pampering and cosseting, we looked for pleasure palaces decked in silks and satins, scented with jasmine and rose. We sought places to sink into, havens where our exhausted limbs and tired minds could rest, relax and be rejuvenated. Gradually we began to understand what visiting a spa could do for us and that we were only skimming the surface. We instantly felt better after a massage, our skin felt silky and soft, while after a facial our faces looked refreshed and sparkling while a serious pedicure with a full foot massage or a spot of reflexology, made us feel as if we were walking on air.
All along we understood that spas had a therapeutic effect too – for instance being massaged by water got our circulation going, many provided fitness trainers who did not make us feel guilty or inadequate, and occasionally revived in us the wish to be fitter than when we arrived. If we wanted to lose weight, but needed a little help, a visit to a spa could kick-start a regime either with a nutritional analysis, a fast or a detox. And gradually we began to understand that spas could be more than pampering, they could help us in many different ways to a healthier life. And as we, the users, became more discerning, the spas upped their offerings to include fitness tests, food intolerance tests, body mass index measuring alongside more medi-concepts such as skin peels and non-invasive facial treatments, as well as acupuncture, cupping and other aspects of Traditional Chinese Medicine. Hence an increasing number of spas began to offer semi medi-treatments and therapies, which is now a significant and growing trend. You'll notice it coming when you begin to see the words medicosmetics or mediceuticals on the menu of treatments and products used alongside a number of non-invasive cosmetic procedures.
And while the US was the first to introduce such treatments, European spas, many of which had been clinics, twenty to thirty years ago, followed suit very sharply. Indeed some of the finest medi spas can be found in Switzerland, Austria and Italy. Take for instance the daddy of them all, Clinique La Prairie, never a pampering or cosseting place, but always one of supreme comfort, wellness and care which offered massages and facials alongside serious medical and dental work. On the shores of Lake Geneva it has for more than 70 years been a haven for rock stars, royalty, oligarchs, politicians and popes who have undertaken its various programmes from weight management to cosmetic surgery.
Recently Grand Resort Bad Ragaz, also in Switzerland, has undergone a multi million euro transformation into a state-of-the-art medi spa where you can have a full medical check-up alongside a host of pampering and anti-ageing programmes. Hand-in-hand with the move to a more medical aspect is the wide choice of anti-ageing, or age management therapies on offer wherever you go. At Bad Ragaz these include micro-dermabrasion, a gentle removal of the dead top layer of the epidermis which makes the skin look fresher as well as softening any harsh lines and wrinkles. Bad Ragaz also deals with broken veins, skin discolouration, fruit acid peels and will administer Botox and fillers. In fact, it is the increasing interest in non-invasive surgical procedures, such as Botox, that has encouraged spas to offer more on the medi lines, together with other anti-ageing treatments like peels, collagen implants and skin discolouration treatments, which are often caused by sun and environmental damage.
Biohotel Stanglwirt Wellbeing Hotel in the Tyrol has engaged the help of Dr Erich Schulte's methods and products, !QMS, which use soluble collagen to help plump out the skin and boost the skin's own production of collagen. (Best of all !QMS are now expanding with stand alone shops where you can get the products for home use). La Reserve in Geneva which has specialised in anti-ageing treatments over the last few years has now got a four day Better Ageing programme which begins with nutritional and osteopathic assessments, and follows through with an individually designed eating and fitness regime which claims to be easy to continue at home. While the Espace Henri Chenot at the Palace Hotel Merano offers a whole menu of anti-ageing treatments including wrinkle-reduction by micro-injection, various peelings, laser therapies and light stimulation.
In Cyprus at the Columbia Beach Resort, offer a special anti-ageing break using sculpting treatments and products from the Daniele de Winter range, which includes a choice of ShotBeaute drinks, a powerful combination of anti-oxidants, proteins, enzymes and essential fatty acids which are designed to help stimulate collagen production.
Watch out for salt as well in the coming months, we know we are not to consume too much of the stuff but many spas are now introducing and opening salt rooms and salt caves. For centuries the healing power of salt water has been known (e.g. the Dead Sea) but also research shows that salt is good for bronchial and respiratory diseases as well as a number of allergies. Salt caves or grottos have recently sprung up in the glorious 17th century former monastery Relais San Maurizio in Piedmont, and the rather grand 18th century manor house, Rockcliffe Hall in the Tees Valley. Here fine salt particles are dispersed into the air, which helps breathing and alleviates any blockages no matter how slight. Salt baths and lymphatic drainage massages are also on offer as well as well as special saline hydrotherapy at the Relais.
In the pursuit of wellness we have learned that the right food, the right exercise and the correct therapies are all essential to a healthy lifestyle…but matter little if the body doesn't get proper rest. And in our over-fraught, manic world, more and more of us are suffering from lack of sleep. Indeed sleep has become the new sex…nobody is getting enough. So spas are now turning their expertise to developing sleep programmes. The aforementioned Rockcliffe Hall offers Sleep Retreats as do Grayshott Hall in Surrey and Bad Ragaz, while the Hospes Maricel has a whole Learn to Sleep programme. Other spas are offering special sleep baths, pillows, mattresses while there is a huge interest in Yoga Nidra, the discipline where you learn to totally relax. The most difficult part of this is NOT falling asleep…but practitioners claim that a 30 minute practice is as good for your body and mind as any sleep. Meditation masters are visiting spas and retreats to help with sleep therapy while many are now employing sleep directors. In the forefront of this movement is Canyon Ranch, a pioneer of spa therapies in Arizona, where guests can spend a night in a sleep lab to monitor their every movement, while the Fontina Spa Resort in Malta has special Wellness Rejuvenation rooms which are kitted out with magnetic mattresses and pillows which are supposed to relieve your body of all stress and help induce sleep.
I have always thought of cruising as one of the most relaxing of holidays. You board the ship, unpack just once, and the scenery comes to you – how wonderful is that, as you move from country to country every other day. Now cruising has got even better for the new craze is the spa on board, and cruise companies are vying with each other to attract our business and our bodies. P&O has a medi-spa experience on board one if its flagships, the Ventura, where you can even get your teeth whitened, while you can get a 24 carat gold facial on its sister ship, the Azure. As well as a full menu of wraps, scrubs and massage, the Seabourn Odyssey has an outdoor whirlpool and Jacuzzi as well as two spectacular spa villas with dining, bathing and relaxing areas as well as wrap around verandahs. Windstar's Wind Surf have ten especially designated spa suites where the aromatherapy oils are changed daily, and turn down service does not include chocolates but eye gel and lavender hand lotions. While spa treatments are now so popular with Costa cruisers that they have introduced a specially designated spa website for pre-booking. This spa trend is going to run and run…or rather sail…
---

Jo Foley, Contributing Editor
For over quarter of a century, Jo has been visiting and reviewing Spas, Sanctuaries and Wellness Centres on four continents and has written about them for publications as varied as the Financial Times, Conde Nast Traveller, Tatler, Harper's Bazaar, the Sunday Telegraph, Woman&Home, the Daily Mail, the Times and InStyle.