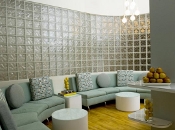 Written by Suzanne Schroeder
As a 30th birthday treat, I received a gift certificate to Bliss for a "Blissage 75"massage treatment. My girlfriends and I decided to make a day of it, so we booked three massages at the flagship Soho location in New York City for a much needed "girls' spa day" out. Bliss Soho is where the sassy, tongue-in-cheek Bliss story began in the mid-90s and was spotted by real time Carrie Bradshaws in need of instant body-fixing and tension-nixing by the bucketful. Bliss rubbed, kneaded and exfoliated its way to the top, creating a spa-volution that spawned a wave of wannabes, but none that have usurped its reign as grande dame of the urban day spa.
Arriving at the spa, we were instantly greeted at the check-in counter. While the receptionist confirmed our appointments, we perused the selection of Bliss spa products displayed for sale – everything from flab-flouting FatGirlSlim cream with accompanying slimulator to the yummy smelling Bliss Blood Orange and White Pepper Body Butter and Sugar Scrubs – all to allow you to bring a little bit of "bliss" back home with you. The retail area had a slight "Bath & Body Works" feel to it, not at all overwhelming or pretentious, but "shoppable."
Our Bliss guide then led us into the women's locker room, where she showed us to the changing area and explained the next steps. We chose our lockers, changed into the white cloth robes and blue rubber flip flops offered to each guest, and set our own personalized locker combinations to lock away our belongings. Being more modest than some, I would have preferred a slightly more private changing area, but thankfully we managed discreet solo costume changes.

Armed in our robes and our bright blue Havaianas, we passed through the back of the locker room and headed into the waiting lounge to relax before our treatments. We filled out a quick information form for our massage therapists, then helped ourselves to hot herbal tea and brownie bites (which I wish were for sale to take home – yum!).
Eventually, I met my massage therapist who led me into the treatment room. She was very thorough and quizzed me on specific areas of tension I wanted her to concentrate on during the 75-minute, full-body massage. She offered upgrades to my package to complement the treatment – scented oils and lotions, or deep-tissue concentration. The massage itself was great – one of the best I've had. The massage therapist was very friendly, though she talked almost the entire first half of the massage about books, breakups, and Dean and Deluca soups. It's a small point, but I was so looking forward to a good hour of soothing relaxation in a quiet room. She meant well, but I would much rather have enjoyed my massage in silence, listening to the background music, without having to expend my energy responding to small talk. So you might want to mention when you meet your therapist that you can't wait to escape into a peaceful retreat away from the hustle and bustle of city noise and chatter — and hope that she takes the hint.
Checkout was as quick and painless as the check-in, where we received a complimentary bottle of water and sample Bliss products to go. Overall, Bliss is perfect for a day spa treatment and I would definitely return again myself.
---
On the spa menu:
Spa-ahhh inducing facials, massages and body treatments, plus nail care and waxing
http://www.blissworld.com/category/spa/spa+menu/complete+menu.do
Next time round:
The Carrot and Sesame Body Buff™, Bliss's 24-'carrot' signature body smoother featuring a carrot mulch and hot oil rubdown, a warm milk and honey drizzle, a skin-softening wrap, and a sesame seed and sea salt scrub ending with a Vichy shower! (from £125 [$165] for 90mins)
Bliss on the road:
What was once only London's pleasure outside the US, Bliss now has new locations in Singapore, Hong Kong and Barcelona with spas opening in Boston and Dubai Festival City soon.
USP:
Voted Condé Nast Traveler's Best Urban Day Spa, it's as fun for the boys as the girls with its 'homme improvement', the masculine version of Bliss's coveted Triple Oxygen Facial.
Website:
---
Suzanne Schroeder
is a former twenty-something tech marketing maverick who freelances as a travel journalist when her bosses aren't looking.