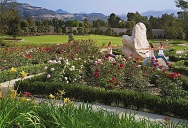 Written by Rosie Lee, Los Angeles
I felt like a jackpot winner when I was invited to review the Spa at the Four Seasons Westlake Village, California. Not that I hadn't been to lollygag in the luxurious spa environment before, because I had. The new well-appointed property appeared a few years ago in the Conejo Valley at the eastern foothills of the Santa Monica Mountains where the red-tailed hawk flies from the broad beaches of Malibu. But I never paid attention to what was going on around the spa until this visit, and that hit me like a bunch of organic veggies.
I was thrilled, imagining a day of sliding from one deluxe scrub and rub to the next, and hoped to get a peek at the California Health and Longevity Institute (CHLI) side too. I hadn't realized that the whole point of the Westlake Village's integrated, synergistic, full spectrum environment is about wellness, and that the spa is only one (delightful) part of a much bigger vision than can be seen through the immaculate eucalyptus infused steam room. When I reviewed my schedule, I discovered I was in for a face lifting, heart pumping, energy healing, aloe-wrapped day. I had no idea how much impact an array of first class holistic inspired activity could have on a woman turning 60.
Fantastical Facial
At 9am after a soak in the deluxe whirlpool pulsating with water jets, deep breathing in the aromatic inhalation room and a quick rinse in one of the pristine showers, I donned my fluffy white robe and headed to the tranquility lounge to chill on a chenille covered chaise lounge and relax to the sounds of water trickling down a translucent glass wall punctuated by shelves of orchids and pooling into a wide basin of river rocks. Soon Clover, my 'Anti-Gravity Face Lift' facialist whisked me off. Snuggled into buttery soft sheets with French doors that opened to a walled in garden full of blooming jasmine, the process of re-educating, rejuvenating and replenishing my dehydrated face began. Afflicted by a Puritan upbringing where work comes before play, I dutifully asked about each procedure, product and tool, but eventually relaxed into the process and let Clover steam, clean, exfoliate, detoxify, infuse, neutralize my free radicals, increase my coenzyme production, soften my lines, reduce skin congestion, and hydrate my face into a 'photo shoot ready' look. Meryl Streep, move over.
Clover used Ling Skincare and the CACI face toning system, including Ultrasonic Microdermabrasion and light therapy designed to lift, tone and regenerate my face and neck. Tools clicked and slid across my unsuspecting face, but it was a delicious experience, leaving me without a single blotch of irritated skin screaming, "go hide" until the epidermis settles down.
Energy Healing
Next stop — an Energy Healing session at 11 o'clock. I padded back to my locker to change and cross the lobby to check into the California Health and Longevity Institute. Known for its cutting edge integrated approach to health, CHLI offers a top of the line menu of health inspired therapies and consultations including multi-day physicals and East/West diagnostic and treatment options as well as fitness, lifestyle and cooking programs. Its overall vision is nothing less than complete health — mind, body and soul — combining Western medical practice with complementary and alternative treatments. Its core philosophy is about living a healthier life and Kaizen, taking small steps to get there. It's a pretty amazing place. I was surprised to find Energy Healing on the list of options, along side acupuncture, acupressure, and hypnotherapy, as that would not be considered a mainstream therapy in the United States. But the latest in complementary and alternative practices are part of CHLI's approach to holistic health, so after a brief chat with Barbara, a cozy grandmother from New York with the gift of healing, I lay down on her treatment table and closed my eyes to let her clear my energy blocks and then floated off to my lunch rendezvous with Shelby feeling a little lighter and more present.
Personal Fitness
At 2pm, I changed into my 'comfortable clothes with appropriate shoes' for my fitness session, which turned out to be the surprise of the day as I power walked and talked fitness strategy with my personal exercise specialist through the 20 acre enclave of pathways that sashay through bountiful flower gardens and 50-ft sequoia trees, past the meditation lawn, authentic Chinese poet's house pagoda, waterfalls, huge boulders from the real River Kwai and the kitchen garden.
We basked in the glorious blue sky and warm afternoon sun while Laurie gave pointers about cardio and balance including using the curb and side stepping, all tailored to me, an outdoor person who doesn't do 'gym', so although the 14,000 sq foot fitness center would appeal to many, it's not for me. She slipped tactful tips into the conversation about caloric intake and exercise in order to attain health and fitness and stopped under the shade of the pagoda for some resistance band routines. 'This could be a tree" she said as she slid the band around a pillar and I did my bicep curls and triceps extensions. Trying to stand on one foot, I laughed as I stumbled – "that's the 'ha' muscle", she said. "You can strengthen that to gain core balance." A-ha! Who knew?
Wellness Kitchen
Running a tad behind schedule, I scurried back to the locker room to change out of my sweaty clothes for my meeting with Siobhan, the CHLI director of operations, who showed me their state of the art facility and gave me an informative and enthusiastic overview of their progressive approach to whole person health. While talking to her, I realized I was missing one critical piece of their 3 pronged approach, the "wellness kitchen and nutrition" – so I joined the Farmer's Market Wellness Kitchen lunch class a few days later, where the final piece of the puzzle fell into place on this holistic journey of discovery. Nutrition. At the Wellness Kitchen, I learned about plant based nutrition and knowing your food source from Paulette, and went home having learned some yummy veggie recipes.
Afternoon Tea
By 4pm, I was looking forward to my final treatment back in the sanctuary of the spa. I had a spare 20 minutes to do the unthinkable, and lie in the sun by the 25-meter outdoor Serenity Pool for a quick toasting before my Aloe and Green Tea Sun Soother with macadamia oil lube session. This final treatment was hard to choose given the delectable options that include Lavender milk and honey cocoon, a Purifying aromatic clay wrap, a Sea kelp thermal body contour or the tempting, Warm oil body annointing. Led to another tranquil treatment room where doors open to the private garden, I indulged in pampering as Yoshiko applied the cool aloe infused mixture before wrapping my arms and legs in the heavenly warm organic cotton cloth. Using Balinese palming techniques, she pressed open handed into my muscles and I drifted off, thinking, what a way to end a 9-5 day.
The Four Seasons Spa and California Health and Longevity Institute provide a fusion of health, beauty and pampering at its multifaceted five star finest. Though singular in mission, it is through the myriad of options and pathways towards a healthier whole person that make it all seem doable, especially when following their core principle of Kaisen – those small, but necessary steps to reach your goal.
---
On the spa menu:
Everything from custom blended aromatherapy massages to executive escapes, personal fitness training, and holistic health assessments and nutrition advice.
Total spa and resort area:
Comprehensive 40,000 sq (3700 Sq m) foot spa plus 14,000 sq ft fitness center
Spa Facilities:
Includes 28 treatment rooms including private suites with fireplace and courtyard plunge pool; 2 pools – indoor and outside; 9 acres of landscaped grounds for jogging or meditation; five distinct dining options with healthy options; indoor and outdoor meeting space.
Spa programmes:
The California Health and Longevity Institute features a 360-degree approach to health and well-being, providing guidance and practical support from physicians, dieticians, life advisors and other experts to help guests engage in lasting lifestyle changes or to simply sample the possibilities from their eclectic menu of treatments and educational sessions.
Spa packages:
Spa and wellness packages include everything from a 'daycation' (USD 225.00) to the 'Ultimate indulgence' which includes a therapist's choice Swedish massage (50 minutes), hydrating or collagen-firming facial (50 minutes), purifying aromatic clay wrap (50 minutes), Hayaku manicure and pedicure (50 minutes), plus full-day use of luxury spa suite and lunch (USD 900)
USP:
California's premier wellbeing spa features the most innovative, holistic approach to health and beauty just about anywhere
Website:
www.fourseasons.com/westlakevillage
---
Rosie Lee
Rosie Lee is a health and wellbeing researcher, journalist and editor. She has traveled extensively and has just completed her first children's book, Diggie Goes to Paris. This is her first review for BodyandSoulHolidays.com.