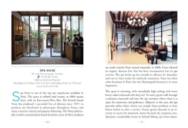 Every now and then there comes along the perfect little travel companion…elegantly designed, sensually written, and stylishly produced. Just the right size for your handbag and just what you always wanted had you thought of it yourself! Pampered in Paris is that perfect little gem for Euro-travelling spaficionados.
Profiling more than fifty of Paris's best spas, salons, and boutiques, travel writer and translator, Kim Horton Levesque, guides spa-goers through the city arrondisements, showcasing Paris's plethora of extraordinary spa services, ones she assures will make you feel welcome whether you are fluent in French or familiar with European practices. Levesque writes like a well-travelled girlfriend. Her senses are refined, her advice is excellent. You read each entry certain she has your best interests at heart.
Before she lets you out and about though, she makes sure you know how to navigate the cultural nuances of spa etiquette in France. There is a glossary of expressions to help you understand differences in French spa and salon terminology, plus sensible advice on making sure you are comfortable under any circumstances.
From the venerableSpa Thémaé to the trendsetting Spa Nuxe to Caudalie's Les Etangs de Corot on the outskirts of the city, the book is a treasure trove of luxury spa treatments and locations. The selected spas offer a dizzying range of options, but the author narrows it down by highlighting signature treatments, those that come highly recommended, or those that are unique to an establishment.
There is also a handy little chapter on the best places to buy those beloved but inexpensive pharmacie products that keep those chic and savvy Parisians looking their best!
Pampered in Paris is a neat little gem of a book that no self-respecting spaficionado should be without, as perfect (and divine) as a first class seat on Eurostar!