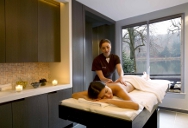 Written by Annabelle Hood
The charms of Bordeaux's world-famous vineyard and Vinotherapie® spa at Les Sources de Caudalie are cleverly replicated by its sister boutique hotel Les Etangs de Corot (literally "ponds of Corot"). There may not be a chateau on site nor a spa of the scale of the Bordeaux original, but with its proximity to Paris, pretty bijoux Caudalie Spa, Provençe-style restaurants, handsome rooms and peaceful lakeside setting, Les Etangs de Corot abounds with advantages of its own. It's easy to understand why the French painter, Jean-Basptiste Camille Corot, felt inspired to live and paint beside this beautiful lake set against a backdrop of rustling trees and winding pathways of labyrinthine woods beyond.
The spa experience:
The Vinothérapie spa has its own glass-fronted door and a side entrance for hotel guests. In a bid to keep Caudalie's Vinothérapie spa peaceful and exclusive, entrance is complementary only to those guests who book an hour-long treatment or a Caudalie ritual geared to specific concerns from anti-ageing to slimming. On checking in at the spa reception for my 100% Grape ritual (details below), I changed and piled my belongings into a hanging basket before handing it to the duty attendant. I'd arrived 20minutes before being summoned for my treatment from the sunny poolside relaxation area, to benefit from the steam room and an underwater massage in the pool. It's not very obvious, but you need to press the blue button on the side of each jet to activate it. Each one varies in pressure, so 'shop around' them until you find one that suits you best. A Crushed Cabernet Scrub (very skin nourishing), Vinosource facial (which introduced me to the miraculously hydrating Vinosource Riche moisturiser) and Pulp Friction Massage, collectively left me feeling grapetastic. The 100% Grape rituel is a sound introduction to the spa's most popular treatments.
The spa:
It is fitting that Les Etangs de Corot should open its own spa, however petite, for Ville d'Avray was a resort town in the 19th century, providing rest and recuperation for artists, musicians and general visitors at its scenic water's edge. A steam room forms the spa's centre-piece, flanked by an upside down bamboo garden and shimmering grey-brown Brazilian wood throughout. With its cornucopia of treatments and tiny gym, the Caudalie Spa is certainly a welcome addition to the hotel, albeit not perhaps one large enough to make this a spa destination in itself. However, all the same Caudalie Vinothérapie® treatments are available here, expertly administered by fully trained therapists, from the now cult Crushed Cabernet Scrub comprised of exfoliating grapeseeds, to Honey and Wine wraps, and my favourite Pulp Friction Massage, using antioxidant-rich grapes decadently squeezed by hand straight on to the body.
The hotel:
Walking in to the bijoux hotel was like walking in to the peaceful entrance of a traditional Japanese garden. A wooden balcony overlooking a rockery and plants flanked the reception, with a few mountain bikes poised for guests to use at their will. The hotel concept? Combining the charms of a gentrified palace hotel with the down-to-earth warmth of a guesthouse. The good news is, it works. With elegantly refined Parisian chic on the one hand, the hotel also embodies a laid back, scenic boho-artist vibe on the other.
The rooms:
I had a look at a handful of the hotel's 43 rooms (including two junior suites and two principal suites) – each individually designed and graced by the talented aesthetic touch of Alice Tourbier, the daughter of the owners of the original Les Sources de Caudalie in Bordeaux. Together with Alice's wine expert husband Jérôme Tourbier, the couple have put their own stamp on this Parisian gem, while retaining the rustic charms and chic feel of the Bordeaux original. Les Etangs de Corot is ideal for those wanting to combine a stay in Paris with a visit to historic Versailles and its peaceful surroundings.
My lakeside room 45 (one of five rooms under the Master Artist theme) married new era Parisian chic with warm modernity, aided by trendy wallpaper, belle epoque mirrors, Regency period chaise longues and a writing desk above which hung signed vignettes of renowned French artists and historic writers. A large glass window in my large marble bathroom was a nice touch, providing views across the trees to the pond below.
The cuisine:
The hotel boasts two unique and atmospheric restaurants. The fine-dining Le Corot Restaurant is headed by innovative chef Benoît Bordier of Chez Jean Michelin star fame serves main courses around the €30 mark around the charming little courtyard, with 10-foot tall Corot prints and humorous false deer heads peering from the restaurant walls. In clement weather, fine diners can also dine lakeside on the sun-drenched wooden summer terrace, Les Paillotes, which is heritage-protected. The less formal bistro Café des Artistes meanwhile, serves breakfast, lunch, afternoon tea and dinner downstairs. Menus here are pinned on to antique wooden laundry beaters – a nod to the Les Sources de Caudalie's restaurant which houses an old laundry mill.
---
On the spa menu:
The whole gamut of grape and vine-based face and body treatments available at the original Caudalie spa in Bordeaux, including grape -based scrubs, baths, wraps, massages, facials and manicure and pedicure treatments.
Signature treatment:
Crushed Cabernet Scrub, a 35minute exfoliating, slimming and nourishing treatment using grape-seed, honey, brown sugar and body contouring essential oils
Total spa and resort area:
7,535sq.ft
Spa Facilities:
An Yves Collet designed spa with a steam room and a bubbling hot tub in the garden is accessed from across a covered teak walkway. A small relaxation room features a stone wall of trickling water. Seven treatment rooms include a water massage room and VIP double room. The spa is open seven days a week from 10am to 7pm daily.
Spa programmes:
– Vinotherapie ritual (half day) – facial, bath and body wrap, costs €195
– Caudalie Exceptional ritual or Body of Your Dreams (both are half day) – include a facial, massage and bath treatment, €235 each ritual
– 100% Grape ritual (half day) – facial, body scrub and massage, costs €260
– The Sommier ritual (for men, half day) ­– bath, facial, body scrub and massage, costs €280
– 'A Star Day in to the Vineyards' ritual (full day) – facial, bath, scrub, body wrap and massage, costs €390
– Stalks for Lovers ritual (for two, half day) – facial, barrel bath for two and duo massage, costs €575
Hotel and spa packages:
– Gastronomy & Spa weekend (2nights, valid from Wednesday to Sunday noon) for two people costs €1540. Guests stay in a Prestige room, including: a buffet breakfast for two; one three-course lunch or dinner in Le Corot restaurant for two, excl. drinks; and one three-course lunch or dinner for two in Le Café des Artistes, excl. drinks. Plus two half days per person at Spa Caudalie. Sheltered parking offered
Room types:
Various décor types drawing on the influences of the hotel's artistic heritage; 34 of the 43 rooms overlook the pond.
Getting there:
A taxi takes about 35minutes from the Eurostar terminal at Paris Nord station. Allow more time in rush hour..
USP:
An enchanting hotel that enjoys a prime forest-lakeside location only a few minutes from the Palais de Versailles.
Website:
---
Annabelle Hood
Award-winning luxury travel, health and spa Journalist and Editor, Annabelle has written for Vogue, TTG Luxury, Spa Heath & Beauty, Spa Secrets magazine, Brides, The Evening Standard and Handbag.com amongst others. She specialises in city break destinations, luxury hotel, spa and restaurant reviews, and health and beauty features.