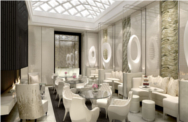 Get ready for a blast to your sparometer. Autumn 2010/Winter 2011 promises the opening of some of the most exciting new spa concepts and destination spas to grace the capital and beyond.

First stop, the Hotel Verta.
Billed as London's Vertical Gateway, the Hotel Verta is Europe's first hotel to have a heliport. Its design is "inspired by the Halcyon days of aviation" and features a double-height lobby, sweeping staircase and iconic decor. Need ground transportation once you chop chop in? No worries. The hotel is hiring out a fleet of Ferraris, Porches, Aston Martins, Bentleys and Lamborghinis to get you around town in style. After a busy day in the city, you can return to the subterranean oasis of the Spa Verta, where your underground journey starts at the Spa Vitality Suite with its Techno-gym equipped fitness room plus exclusive spa facilities, including a sparkling vitality pool and jewel-like thermal rooms. French brand Anne Sémonin is the leading spa product line, creating new signature treatments for Spa Verta, as well as offering favourites including the Haute Couture Facial and Anti-Stress Back Therapy. Comfort Zone and Mama Mio treatments and retail products are also on offer along with personalised treatmtents and service. The sky's the limit here for spaficionados hoping to visit a luxury destination spa in London.
Next star on the horizon, the new Corinthia Spa in the Corinthia Hotel London.
One of several high profile openings in London ahead of the 2012 Olympic games, Maltese luxury brand, Corinthia Hotels showcases its first London hotel early next year and features a stunning new ESPA spa. The 294-room hotel is set in an imposing Victorian building in Trafalgar Square, site of the former Metropole Hotel from the late 1800s. Included in the five star luxury hotel: two restaurants, a concept cocktail bar, boardroom meeting facilities and a refurbished grand ballroom. The hotel's 2,140m2 ESPA spa will be the "first of its kind" – with "pioneering" design and treatments. The Corinthia Spa will focus on personal care and offer an "unsurpassed" range of bespoke treatments and therapies. The spa will be one of the largest in London, laid out on four floors of treatment and relaxation rooms, plus an indoor pool and a 300-piece fitness centre.
In the heart of Mayfair, the Four Seasons at Park Lane.
Tapped to be one of the most dazzling urban spas in the United Kingdom, the new Spa at the refurbished Four Seasons is due to open in early 2011 and sits atop the hotel in a new all-glass top floor that offers 360-degree views over treetops and across the cityscape. The 697 sqm spa offers sensual curves and an organic blend of dark wood and light stone that complement that natural scenery of nearby Hyde Park. Among the nine treatment rooms is an ultra-luxurious double suite with 180-degree views. Each treatment room is accompanied by its own individual relaxation pod – a private sanctuary to prolong the post-treatment tranquillity. Adjoining the Spa, the Fitness Centre features state-of-the-art cardio-and weight-training equipment, inspiring your workout with southeast views of Big Ben, the Houses of Parliament and the London Eye. Pampering men's and women's changing rooms each feature a skylit vitality pool, steam rooms and saunas with floor-to-ceiling windows overlooking London. Spa lunches are served in the chic 10th Floor Lounge.
Weekend Escapes to the Country:
Coworth Park, part of the Dorchester Collection
Just 45 minutes from Central London and just opened, Coworth Park is one of several hotly anticipated country house hotel and spa openings this autumn. Located next to Ascot and bordering on Windsor Great Park, the hotel stands in 240 acres of Royal Berkshire parkland, offering three restaurants headed up by Michelin-starred Chef John Campbell, two polo fields and an equestrian centre, and an eco-luxury Spa with an indoor swimming pool. The restaurants include a fine-dining restaurant in the Mansion House, a more informal restaurant in the converted barn and own outdoor terrace, and The Spatisserie.
Part of the Dorchester Collection's UK portfolio, the hotel breaks new ground by combining a wealth of eco-credentials in both its structure and its daily operating procedures. For example, to reduce energy consumption there is a bio mass boiler within an underground Energy Centre. This is fuelled by burning willow which is grown on the estate, a first for a UK hotel. Additionally, cooling for the hotel is provided by a ground source water circulation system of underground pipes known as 'slinkys' within the hotel grounds.
The eco-luxury Spa at Coworth Park will be the world's first hotel spa to offer treatments by Dr. Alkaitis. Known for his 100% organic, paraben free ingredients and simple yet effective approach, Dr Alkaitis's products are rich in anti-oxidants and healing enzymes. In addition, the three ranges currently offered to guests at The Dorchester Spa – Carol Joy London, glamorous skin and hair care specialising in anti-ageing treatments; Kerstin Florian, luxurious products infused with the earth's rich, natural ingredients; and Aromatherapy Associates, the leading natural aromatherapy oils and treatment products – will also be available at The Spa at Coworth Park.
The Herb House at the Lime Wood Hotel
Opening 1 November 2010 in the heart of the New Forest is The Herb House at the Lime Wood hotel; a three storey destination spa dedicated to natural wellbeing that intends to raise the bar for destination spas around the world. Inspired by its forest surroundings The Herb House covers three floors and offers ten spacious treatment rooms including two double signature rooms – The Bath House with an indoor double bath and private steam room, and The Bath Garden with an outdoor double bath and private steam room. Thermal rooms include The Forest Sauna, The Steam House, The Mud House, and The Caldarium. There is a Hands and Feet Room for manicures and pedicures, private soak baths in the changing rooms, plus a state-of-the-art roof top gym with forest views and the very latest in Technogym equipment, a 16 metre Ozone treated indoor lap pool with retracting glass doors to the garden and a workout studio offering fabulous classes from Body Pump to Zumba and Yoga to Tai Chi.
The Herbery is a serene roof garden filled with fragrant herbs that will be incorporated into Herb House spa treatments. Home-grown herbs will dot the offerings at The Raw Bar where organic food, freshly made salads, sushi and items from Lime Wood's Smoke House top the menu.
The Herb House is the first spa to offer Daylesford Organic's Bamford spa treatments outside of the original Gloucestershire 'Hay Barn' spa. Other British brands being used are renowned Irish seaweed spa brand Voya, natural skincare brand NUDE and Ayurvedic specialists Tri Dosha.
Central to the spa is The Herb House's life style assessment program where the team offers practical advice to clients to help them feel better for longer. Treatments start from the moment guests step into the spa and continue long after they've left with regular follow up calls from their personal therapist.
Signature treatments include:
Forest Escapes – a 30 minute consultation with a qualified therapist to establish the body type or 'dosha'. Once recognized, an Ayurvedic therapy is selected from the six choices – Peace, Harmonise, Cleanse, Revitalise, Release, or Ease – to suit the needs for that day, leaving guests with a grander, fuller vision of themselves.
Forest Dream – includes a 'dosha' consultation, Samvahana (synchronized four hands massage), Mukhabhyanga (face massage), Shirodhara (forehead 'third eye' oil therapy), private steam room and lifestyle sheet to take home.
Together in the Forest – a treatment for two includes relaxing and detoxifying in The Mud House, a 'dosha' consultation, an Ayurvedic Therapy tailored to suit the 'dosha', time in a private hot tub or steam room, and relaxation time with herbal tea and lifestyle advice.
Life at Thorpe Hall's new Lifehouse Spa
Following a £30m (36.4m euro, US$46.9m) investment, a new luxury destination health spa is about to debut in Thorpe Hall Manor in Thorpe-le-Soken, Essex, UK. the Lifehouse Spa, located within 135 acres of grounds, including 12 acres of historic, listed gardens, will include a thermal area with sauna, steam, salt inhalation rooms, foot reflex pods, cold plunge and an inviting exercise pool. Lifehouse will open in December 2010 and feature Babor products made from plant-based ingredients in their spa therapies. Babor offers a unique concept where organic meets medi-spa to offer both male and female guests effective skin results in harmony with nature. None of the products or ingredients are tested on animals. Spaficionados can stimulate their mind, body and soul with daily activities which vary from Tai'Chi, meditation and yoga to health and wellbeing talks by lifestyle experts, guided tours of the gardens and lessons on healthy eating in the kitchen.
Lifehouse's Oriental Bathing Experience (OBE), inspired by oriental bath houses, is a 2 hour experience of sheer indulgence that taps the centuries-old tradition of a bathhouse as a means of relaxation, health and wellbeing, using the therapeutic effects of water. Relax into the session with a series of traditional massage techniques for the feet and ankles. Enjoy the bathing pools, water rooms and full body exfoliation, followed by an essential oil and therapeutic shoulder, head and scalp massage to reinvigorate the senses. Afterwards you can savour the experience by relaxing in a quiet private room.