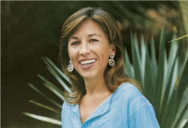 We asked French hotelier and design maven, Jocelyn Sibuet, to share her spa secrets in our first of many Celebrity Spa Interviews
Most memorable spa experience?
Creating my first spa at Les Fermes de Marie's Spa 20 years ago! At that time, spas were not a trend or a fad. I wanted to take the model of a beauty farm and incorporate the local environment and breathe in the natural surroundings. It was very exciting to create something along this line. Today, the place has changed but it's creation remains my best experience in the spa world.
Most delicious spa treatment or therapy ever?
It is difficult to cite a single spa experience. There are so many I could mention that are unique and different and take fascinating approaches. My most interesting experiences in terms of therapy however have been traditional experiences such as Watsu or the discovery, more than 10 years ago, of stone therapy at a time when it was not practiced at all in Europe. We were one of the first spas to use this protocol using the energetic principles of stones and their placement on the body.
Now, one of my favorite treatments is our Bodycare Mineral Elixir. It starts with a Snow Crystals scrub followed by a bath of pink clay and three minerals, totally detoxifying and remineralising. The attraction of this extremely relaxing treatment is your total immersion in a floating water bed at the exact body temperature of 37.5 ° C. This allows deep relaxation and mirrors the same state of comfort as a baby in its mother's womb.
Most extreme spa experience?
My most extreme spa experience would be something raw and strong at once. For me, it was the "Friedrichsbad", also known as the Old Baths in Baden-Baden (Germany). Hot, wet, cold, iced spots… it's a raw experience, not at all common anywhere else. It requires immersion in an environment with alternating temperatures of thermal water, from the Roman spa tradition combined with Irish bath, and is very appealing for the result, its impact on the body and mind, and its simplicity.
Favourite moment of pure luxury?
My favorite moment of pure luxury, when I am in a spa, includes the notion of full support, with codes of elegance, the sense of detail, the feeling of a cocoon, well implemented, surrounded and supported, with the sole purpose of taking care of your from head to toe: this is a moment of pure luxury.
Favourite person to spa with?
My favourite person to spa with is my daughter, because for me, a spa treatment is a moment of conviviality and sharing.
If you could go spa'ing with anyone at all — past, present or future — who would it be?
It would be no one in particular, simply an appreciated person, because as I said, this is a time of healing, sharing in conviviality, and the only key is to share it with someone important to you in your personal life.
Your ideal spa holiday?
It would be based on a holistic model that can completely recharge and revitalise you. It must include a fully supported programme that integrates both energetic and natural philosophies: food supplements, detox programme, nutritional advice, alternative medicines, specific movements, exercise, acupuncture, Pilates, Tai Chi … a concept that can largely be reproduced at home and made part of one's daily routine. This sort of concept would use energy and fitness in order to reduce stress and maintain vitality… a programme that knits together pleasure, beauty, care, relaxation, cocooning, all within a glamorous spa environment, offering an unforgettable experience to recharge the batteries and internal energy.
Best piece of beauty or wellbeing advice?
Besides all the advice given generally on welfare, my "beauty recipe" includes nutritional balance and respecting the concept of harmony and vitality in life. It is important to connect to, to not cut off from, the concept of positivity, to take care of our mind through our body. I believe that beauty is global, that it is necessary to capture all of these elements in order to attract energy and free ourselves to live well and enjoy everyday life. This "beauty recipe" must be understood globally. Maintaining a balance between our mental, physical and spiritual conditions is the best reflection of beauty anywhere in the world .
---
From the creation of Les Fermes de Marie, an unrivalled concept in the « art of receiving guests in the mountains », to the acquisition of the mythical Hôtel Mont-Blanc, and the original renovation of Le Lodge Park, the Group Sibuet bears the imprint of their designers who were inspired by joint passion and culture in the art of living.
Keen to ensure the well-being of her guests, Jocelyne Sibuet created the « serenity in the mountains» concept with the launch of the first Spa Pure Altitude in the Fermes de Marie complex in 1990 and has built a portfolio of stunning boutique hotels, venturing beyond the Savoie borders to include:
– A traditional Provençal house with outhouses in the heart of the Lubéron natural park (La Bastide de Marie) and working vineyard (Le Domaine de Marie)
– A Renaissance hotel in the heart of Lyon's old town (Cour des Loges)
– A hotel in the Mediterranean Riviera, overlooking the Bay of Pampelonne (Villa Marie)…