St Bride's Dreamy Seaside Sanctuary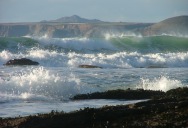 09 May, 2010
Self-confessed control freak, Karen Green, falls fast asleep in St Bride's expert hands
Written by Karen Green
When we arrived at St Bride's cliff top marine spa, it was so much more than I expected.  Though not much to look at from the road, when you step inside you immediately sense you're in for something quite special. Think Marine Boutique style wise and you'll be on the right lines.  The beautifully decorated retro seaside design coupled with warm Welsh hospitality makes St Brides an exceptionally attractive and welcoming Spa Hotel.
Owners, Andrew and Lindsey Evans met in the US and found they had more than just a little in common.  Both were originally from Wales and both were avid spa goers. Their relationship blossomed and when they returned back home, they decided to open the St Brides Spa Hotel  in 2004 hoping to blend the best of the Welsh coastline with the finest in locally sourced treatments and food.  The success of their undertaking has earned them the well-deserved accolade of 'Best UK Shoreline Hotel 2010' from Coast Magazine.
St Brides loves couples, so I decided to treat my partner, Jon, to a relaxing weekend at the Welsh seaside.   Its dual treatment room overlooks the bay of Saundersfoot, as does its intimate Infinity Pool – currently the UK's only infinity pool.
Together, Jon and I traipsed from one pleasurable experience to another.  Laying side by side, we both had a DOLMÔR wrap, derived from locally sourced seaweed specially selected to ease pain and soothe sore joints .  This was Jon's first experience of a wrap, and he said it was fantastic.   Mine was so good, I fell asleep!!!  I judge a good therapy by how quickly they relax me – this time I started to snore!   For an hour and a half of pure pampering (skin scrubbed, rubbed, smoothed and wrapped), our skin was baby soft and glistening.   Jon, a person with very ticklish feet, even enjoyed the soothing foot massage while in his wrap – even if he did get a little flustered from time to time.  I held my giggles back.
To finish off the treatment, we had sensational facials.  We both have had quite a few facial treatments before, but we agreed the DOLMÔR facial produced the best results ever and was the only one we've ever been able to nap through!  Craig, DOLMÔR's creator and proprietor, knows everything there is to know about seaweed and its benefits.  He recommended a particular type of plant for Jon's mild rosacea and his skin is the clearest it's been.  Days after, I'm still commenting on it!
In addition to the local DOLMÔR products, St Brides also uses Comfort Zone, an exclusive range of Italian skin care products merging Mediterranean roots and international soul.   The skin care house has created a new collection of three exclusive coastal treatments for St Brides (Ocean Mist, Ocean Breeze, and Ocean Renewal) to capture the essence of the seaside location and cleanse, renew, and energise mind, body and spirit.
To finish off our day of indulgence, we swam in the spa's infinity pool which is stunning in the sunshine.  Then we treated ourselves to the heat therapy area in the "sensual rooms".  St Brides' accommodations are grouped into Good, Better and Best, not the most imaginative of names but all meticulously decorated to a high standard.  The difference between each is size and view only.  Good rooms start from as little as £150 per room for two including breakfast and parking. No expense has been spared on fitting out the bedrooms. Huge queen size beds come wrapped in famous Melin Trejwynt throws, which means 'Three Winds Mill".  Each room features beautiful stone bathrooms with all the amenities you need.
Chef Toby Goodwin and his team whipped up delicious meals from locally sourced fresh produce while we sighed overlooking the stunning views of Carmarthen Bay.  St Brides also has a fish restaurant, The Mermaid on the Strand, in the centre of Saundersfoot, a 5 min walk from the hotel, plus, Marina, a contemporary fish and chip shop with the fresh fish delivered daily.  You have the option of choosing your fish cooked the traditional way in batter, or a healthier option of grilled with fresh salads.  The fish at the Marina is so yummy it is up for the UK's Top Fish and Chip Shop of the Year 2010!
Oh and I forgot to mention that as well as the fantastic hospitality staff, St Brides Spa therapists have also received their share of honours winning Therapist of the Year 2008 , runner-up in 2009 , and more nominated for Therapist of the Year 2010!   From the looks of their recent accolades, St Brides are going to have to get a bigger display cabinet to showcase all their awards!
The hotel staff is helpful, friendly and always smiling!  Especially Paula, who is St Brides' Sales Manager by title, but is always willing to join in where needed and is a real gem of a lady!  Paula's 'nothing is too much trouble' attitude epitomises the entire hotel.  You will see the owners and staff mingling quietly without imposing on anyone's personal space; just there to ensure all is going well and that you have what you need.   The motto at St Brides is 'Yes is the answer, now what is the question'.  No surprise there then!
The St Brides Spa Hotel is a must for a day, a weekend or a week of sheer peace, fine eating and perfect indulgence.  I honestly cannot wait to return.