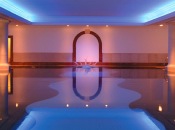 Written by Karen Green
My oldest daughter and I stole away for a Mother-Daughter Spa experience for her Sweet Sixteen birthday celebration and spent the most wonderful day at the exquisite Pennyhill Park Spa. Driving up the long stately driveway edged by emerald green rugby pitches (training ground for the English national team who were nowhere to be seen, much to my daughter's chagrin ;)), we approached the hotel's beautiful 16th century manor house. The spa at Pennyhill is set behind the hotel in its own purpose built structure. Within seconds of arrival, it is clear that everything here has been meticulously planned and executed.
We were greeted by a charming young lady who took us to the decadently detailed changing rooms — stunning sofas, swinging chairs and for those of us with unruly hair…sassy hair straighteners! Our first point of call was the Crystal Blue Ballroom Swimming Pool complete with underwater music, spa pool, bubbling hot tubs, and hydrotherapy pools. The design is practically poetic with water overflowing the sides so you can't see where the pool begins and where it ends, just like the sea on the horizon. Through the French doors are two outdoor Jacuzzis with varying jets and a swimming pool which we'll have to investigate when the weather's a little warmer.
Inside we ventured through the thermal cabins, pure sanctuary-inducing luxury…… and an exhilarating ice cave which was clearly my daughter's favourite. There are same sex areas as well as mixed and plenty to revel and relax in. There are even massage chairs that allow you to direct intense pressure where you need it or want it most (where I have to admit to spending more than my fair share of time :)).
If you're thinking of booking something extraordinary for your mother, wife, grandmother to tell them just how special you think they are this Mother's Day, Pennyhill run a Sunday Spa Special that's sure to make someone in your life ecstatic!
For my money, Pennyhill is an absolute gem of Spa. Exclusive. Exquisite. Extraordinary. Doesn't someone you know deserve something this special this Mother's Day?
---