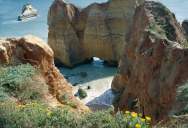 Beautiful, varied and proud — Portugal is a land of marked contrasts, known for its bold sea-faring people who pushed forward the frontiers of the ancient world. To the south, the Algarve teems with sun and excitement, but is much more than just a beach lover's paradise. For five centuries this was the land of the Moors and their intriguing legacy is evident in local architecture, music and language. From its intricate stone carvings from the Manueline era and wonderful azulejo designs to its cosmopolitan capital set on seven hills with cobble-stoned pavements and narrow streets full of Art Nouveau cafés, Portugal offers pastoral pleasures, seaside escapes, and sophisticated relaxation by the oodles. Its spas are divine, blending warm hospitality with first class facilities. Here are a few of our very favourites whether you're city-hopping or sea-bound:
Malo Spa at The Corinthia Hotel Lisbon
This lavish new €4 million 3,000 square meter health spa is the largest in any five-star hotel in Lisbon and offers state-of-the-art services and technologies for relaxation, beauty, health and well-being, aesthetics, and fitness. Developed by The Corinthia Hotel Lisbon in partnership with the internationally-renown Malo Clinic Health & Wellness, The Malo Spa offers a dizzying array of facilities which includes an interactive pool, hydro massage, Vichy showers, a walking circuit, a Roman spa, aqua beds, Jacuzzis, saunas, hammam, heated pool, natural solarium and more. It also hosts a clinical section which integrates traditional spa rituals with health care and cosmetic services that include nutrition programs, plastic surgery, and physiotherapy consultation. Offering everything a dedicated spa-goer could dream of, The Malo Spa is the pride of Lisbon and one of the top destination spas in Europe and beyond.
Tivoli Marina Vilamoura
White sandy beaches to one side; marina promenade to the other, the Tivoli Marina Vilamoura offers the ultimate seaside spa holiday with world class golf facilities nearby and shopping, dining and entertainment at your doorstop. Its exclusive new Angasara Spa by Banyan Tree is a sanctuary of sensual delight, offering relaxing and regenerative treatments for body and soul. There are 11 treatment rooms, combining contemporary design with serene splendour to complement the authentic spa experience. The spa offers a range of delicious treatments to tempt spaficionados. The scents of jasmine, lavender, rosemary and frangipani will linger with you long after the treatments are done. Pure bliss.
Tivoli Victoria
Tivoli Marina Vilamoura's nearby cosmopolitan sister is the stunning 5* Tivoli Victoria, home to the first European branch of The Elements Spa by Banyan Tree, offering an award-winning blend of Asian therapies and treatments. All of the therapists are trained at Banyan Tree Spa Academies in Bintan in Indonesia, Phuket in Thailand or Lijiang in China to ensure consistently excellent service. A perfect location for those who love to Golf & Spa, the hotel offers panoramic views over the rolling fairways of the Oceânico Victoria Golf Course, designed by Arnold Palmer and one of the best and most sophisticated courses in Europe.
Yogoloji – Portugal
For those who prefer to focus on the mind-body connection, Yogoloji is offering two retreats in Portugal later this summer at the Monte de Velho Retreat Centre in the National Park North of Faro. The centre is a pioneer in sustainable living practices and one of the first guest houses in Portugal to use reusable energy sources, installing 20 solar panels in 2000, to supply it with energy. Week-long retreats include yoga classes and instruction, plus ayurvedic meals and quality accommodation along with opportunities to hike, bike, swim and meditate to your heart's content.