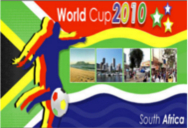 World Cup 2010 is being held at 10 venues across nine South African cities, each with its own world class spa nearby offering a rich range of indigenous treatments and personalised service. From bush spas to five-star accommodations, here are BodyandSoulHolidays.com's recommendations for squeezing in a little luxury pampering before, between and beyond World Cup kickoffs.
Cape Town
The Twelve Apostles
Location alone catapults this luxury 5-star boutique hotel straight to the top of any spa-goer's bucket list. Standing at the edge of the world with the majestic Twelve Apostles mountains to one side and streaming sunsets with breaching whales, playful dolphins, and crashing Atlantic rollers to the other, The Twelve Apostles Hotel is also just minutes from cosmopolitan Cape Town and near enough to visit SA's Cape Winelands. The Sanctuary Spa's signature treatment is the Moya Crystal Massage using home-grown, hot stones. Simply sublime.
Bushmans Kloof Wilderness Reserve and Wellness Retreat
Two and a half hours from Cape Town, but worth every bit of the journey, this stunning bush spa is nestled at the foothills of the Cederberg mountains and offers the perfect getaway for those looking to embrace wide open plains, mystical rock formations, crystal clear water falls, and abundance of flora and fauna. The spa offers holistic therapies and soothing restorative treatments made from indigenous rooibos, flowers and plants. The warm hospitality, exquisite organic cuisine, breathtaking dining venues, superb facilities and accommodation have repeatedly won Bushmans Kloof international recognition and awards. Exclusive and totally private, with 16 rooms and suites, this Natural Heritage Site is also home to many exceptional San rock art sites.
Johannesburg
The Saxon Spa and Studio
Johannesburg's most exclusive boutique hideaway, the Saxon Hotel and Spa epitomises tasteful African elegance and hospitality. The world-class resort facilities have been designed with the most up-to-date equipment, beauty, health and wellness treatments. Their Signature Sound Therapy uses gongs, cymbals, singing bowls, bells, and colour therapy to create an atmosphere of total relaxation. Outside are Sensational Showers blending nature's opposing elements of fire and water, plus a heated hydro pool that plays underwater music. The Downstairs Spa features unisex water facilities including a steam room, floatation pool, heated jet pool and plunge pool. The wet treatment room features a Hydrocapsule for use as a hydro bath and for body wraps.
The Westcliff
Old world charm in an exclusive hillside setting, The Westcliff offers the perfect location to jet in and out of Johannesburg. The Botanica Spa offers an exceptional range of spa treatments by well-trained therapists and skincare specialists using the elite range of Pevonia Botanica products. The Gentlemen's Menu offers treatments specifically formulated for gentlemen's skin, including Facials, Rassoul Body Wraps, Cleansing Back Treatments, Manicures and Pedicures. If it's good enough for Brad Pitt and Richard Gere…
The Fairlawns Boutique Hotel and Spa
This stunning colonial chateau is all about understated elegance with a touch of international flair. The Spa at Fairlawns offers Balinese tranquility in the midst of Joburg's usual madness. The spa fuses ancient philosophies, beliefs and wisdoms with modern products and offers a full range of therapies, including outdoor massages in special garden treatment 'huts'. A holistic sanctuary for body and soul holiday seekers.
Pretoria
Illyria House
Pretoria's best kept secret, this little piece of paradise offers sweeping views across the treetops of the historical Jacaranda City, tranquil gardens teeming with birds, and a fairytale ambience, complete with white gloved butlers and a spa that offers first-class pampering to revitalize mind, body and soul.
Etalie Safari Lodge
In the heart of the spectacular Madikwe Game Reserve lies the Etalie Safari Lodge, an exclusive, holistic haven that allows the soundtrack of the great outdoors to lull you into a deep state of relaxation. You can hear the echo of elephants around the water hole and the weaverbirds tapping on the windows in this piece of undisturbed Africa where nature is truly in its element. Wallow in the mud during "Warthog Hour " or enjoy a massage on your own sundeck, overlooking the endless savannah. Traditional African rituals and massages from around the world dating back thousands of years are here to release and return you to your own wild nature.
Rustenburg
Kedar Country Hotel and Spa
Built in an idyllic setting tucked away in the North West Province, this beautiful santuary overlooks a natural wetland and offers a truly indigenous spa experience. Indulge yourself in a variety of authentically African treatments, ranging from anti-stress massages, aromatherapy and reflexology, and experience utter relaxation in one of its four exclusive therapy rooms, uniquely situated on the dam wall. Spa facilities include a sauna, steam, relaxation area and private pool area, overlooking the grasslands.
Polokwane
Shibula Lodge and Bush Spa
This fabulous five-star lodge in the Welgevonden Game Reserve in Limpopo Province, SA combines untamed magnificence with superb standards of hospitality. Here you can take your body on a "sense safari"! Shibula's spa therapists use indigenous base oil ingredients such as Marula and Baobab, rooibos extract and Kalahari Watermelon to create the ultimate Africa wellness experience.
Garonga Safari Camp
An escape to Garonga's Sala is truly a "safari to the soul". Adventurers will feel invigorated and calmed by the Aromatherapy and Reflexology on offer at the spa here. Luxury Tented Rooms overlook a dry riverbed – each with a wooden deck complete with hammock that commands spectacular views and offers an intimate wildlife encounter.
Nelspruit
Amani Spa at Earth Lodge
Reflecting Africa's untamed energy and majesty, the Amani spa features holistic body, skin and beauty rituals, treatments and massages – all designed to stimulate the body's innate healing processes and naturally inhibit the ageing process. The spa uses Africology, "Healing Essence of Africa" skin and body products, created using natural essential oils blended with active therapeutic extracts from the indigenous Marula tree, Rooibos, African Potato and Aloe Vera plants. The Africology anti-ageing skincare system suitable for use on all skin types.
Royal Malewane Bush Spa
"Luxury meets the wild" at the Royal Malewane. A neo-classical refuge in the midst of the untamed bush features, The Waters of Royal Malewane Bush Spa offers five-star therapy from internationally qualified therapists. Treatments can be enjoyed at the luxurious spa; in the sala, with only nature surrounding; or in the complete privacy of your own suite. The Spa philosophy draws on the much-celebrated healing powers of water and merges the very best of eastern and western practices with rare indigenous oils and traditional ingredients to provide a sensory experience with an unforgettable African touch.
Durban
Karkloof Spa
This internationally award-winning spa is set on a 3500 hectare game reserve and offers the best of the world's treatments with a uniquely African sensibility. The eco-design incorporates natural materials with thatch and living roofs that invite game to graze gracefully in full view. Facilities include a glass fronted four-chair Manicure/Pedicure lounge, Moroccan flavoured Rassoul, Flotation Pool, Kneipp Therapy Pools, open-air Jacuzzi, Sauna and Steam rooms and a Reflections lounge. A tranquil, uplifting haven for those setting out on a journey to wellness and restoration.
Fordoun Spa
This utterly unique spa boasts its own traditional African Healer alongside its team of experts that include skilled masseurs, Reiki and Bio-energy specialists, and highly trained aestheticians. Under the guidance of Dr Elliot Ndlovu, herbalist and ethnobotanist, who is a traditional African Healer and Inyanga, Fordoun has created its own range of signature products, which include extracts of African potato, marula oil, aloe vera and rooibos tea to boost immunity and promote healthy, young looking skin.
Port Elizabeth
Shamwari Game Reserve
Shamwari Game Reserve offers the ultimate luxury big five African safari adventure and conservation effort coupled with responsible tourism. The 25 000 hectare reserve in the Eastern Cape of South Africa boasts five eco-systems and offers 7 different luxury lodges on the private game reserve. Shamwari's luxury Relaxation Retreats offer treatments inspired by the local environment and can be found at four lodges: Long Lee Manor, Eagles Crag Lodge, Bayethe Lodge and Lobengula Lodge.
Bloemfontein
Bloem Spa
Located in the heart of the Free State, between the National Botanical Gardens and the North Western suburbs of Bloemfontein, the Bloem Spa offers unpretentious comfort and quality spa services for those in need of a quick pampering fix. The Wellness Centre offers a DiaScan — a complete body scan, Mora therapy, bio resonance chamber and a three-phase programme to health.